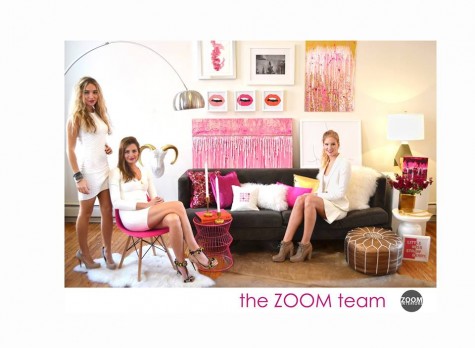 Madeline Fraser, Elizabeth Grover, and Beatrice Fischel-Bock hope to design a deal with a Shark when they pitch Zoom Interiors, their virtual interior design service, in Shark Tank episode 625. The three women met at GWU design school and started their business in late 2012 to buck the trend of snooty, expensive design services.
The idea behind Zoom Interiors is they provide an interface to get an idea of the room you want to design by asking a series of questions about yourself – it's a lot like one of those viral tests you see on social media. Presumably, their algorithm gives them an idea of furnishings and design elements they can suggest for your room. The design services are free, they make their money on the back-end by selling you the items they recommend.
Zoom Interiors is out to disrupt the design world by offering free services. Typical designers charge $100-$600 an hour for their advice; they can't be happy about Zoom Interiors' business model. The "Zoom Chicks" are probably looking for cash to expand their online furniture offerings and for a Shark's help scaling the business. Can they design a deal that will net a Shark?
Zoom Interiors Shark Tank Recap
The segment opens with an "at home" segment in Philadelphia where Madeline, Elizabeth, and Beatrice explain how they met and started their business. The young women have big dreams and they want a Shark to help them get to the next level. They enter the Tank seeking $100,000 for 20% of the business. They walk the Sharks through a Zoom design survey on a big screen TV and show before and after pictures of their projects.
Mr. Wonderful immediately wants to know how they make money. They did $186,000 in sales the first year, but only netted $3,000. One in eight people who do a survey buy the service. Mr. Wonderful wants to know how they can scale. Lori wants to know if they make the bulk of their money selling products and the girls say yes.
The Sharks think a 15 minute conversation with everyone is too labor intensive. Mark says they need special software to automate the process which is too expensive; he's out. Robert thinks the ladies can train people to do the consultations and not need software. They say they're young and Mark barks at them saying that excuse doesn't work.
After a break, Mark says they need to produce. Barbara wants to know how they'll support themselves, they say part-time jobs and Mark barks at them again. Robert says don't spend money on application development. Mark says they need to grind it out, hustle, and grow. Robert doesn't have the time to help them come up with ideas, he's out. Mr. Wonderful thinks it isn't scalable, he's out. Lori thinks it's too much work, she's out.
Barbara likes their pricing and energy, but she doesn't like the application development. She wants a third of the business for 33% if the software is off the table. They accept!
RESULT: DEAL with Barbara for $100,000 for 33% of the business.
Zoom Interiors Shark Tank Update
The Shark Tank Blog constantly provides updates and follow-ups about entrepreneurs who have appeared on the Shark Tank TV show. The deal with Barbara never closed. The Zoom Interiors brain trust decided it was too much equity to give up when they found out Barbara wouldn't be actively involved in the business.
Luckily for the Zoom gals, Tinder co-founder Sean Rad saw the episode and was impressed. After the show, he reached out to one of the co-founders, CEO Beatrice Fischel-Bock, via Facebook. One year after the appearance, the company re-named itself Homee and, with Rad's help, raised $7.2 million. Now, Homee is an app that lets users design their space. While the market for online interior design becomes more crowded, Homee has carved out a solid niche. Unfortunately, the Homee app got away from the original mission of the company. They redesigned the app to be more visual and renamed the business once again to Hutch. In 2020, Hutch shut down and the women moved on to other ventures.
Posts About Zoom Interiors on Shark Tank Blog
Zoom Interiors Company Information
Video