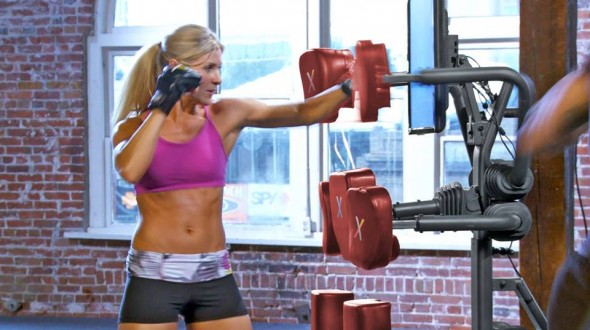 Terry Jones enlists the help of Olympic boxer Marlen Esparza to demonstrate his cardio boxing apparatus called Nexersys in episode 502 on January 31. The Nexersys uses technology to give fast, four-minute circuit training circuits. Jones had much success selling his "exergaming equipment" to commercial gyms – Gold's Gym is a big customer – and now he wants to bring his special brand of cardio boxing workouts to the home user.
The cardio boxing fitness plan that goes along with each Nexersys includes videos on the company website and a "Body Fuel Plan" that gives nutritional advice. They promise a full body workout with their circuit training and "gaming fun for all ages." What it boils down to is, Nexersys wants to break into the home fitness market.
They also have an arcade version in development called "King of the Ring." This looks less like a fitness product and more like a game, but it still uses the same cardio boxing principles as the fitness models. It comes with an accompanying app that tracks all King of the Ring gamers in real-time. You can choose to play against other players in the virtual arena or choose to play against the computer.
My Take on Cardio Boxing Fitness
This looks like a fun way to break a sweat. At $2,495.00 for the home model, it's probably beyond the average consumer's budget. That said, there may be a niche market for it. I did some cardio boxing on our Wi Fit and it was a lot of fun. Amping things up to real punching and kicking would definitely burn some serious calories. My guess is he wants the Sharks' help rolling out the arcade version which, according to the Nexersys website is "currently in development."
I question the accessibility of the product. I'd definitely use it at the gym, and I'd probably give it a whirl as a game in the proper venue, but I don't think I'd plunk down 2,500 bucks to have one in the house. The more specialized exercise equipment gets, the harder I think it is to get consumers, myself included, to buy it.
Do the Sharks Get Fit?
Exercise equipment, particularly expensive exercise equipment, doesn't typically fare well in the Shark Tank. Nitroforce got sunk in the Shark Tank back in season three; Mark Cuban was particularly critical saying the development costs are just way too high.
While the promos show the Sharks "oohing and ahhing" over Nexersys, it's going to take a pretty good sales job on Jones' part to score a deal. They'll like the product, but unless Jones shows serious sales numbers, a good equity stake, and a good bit of business acumen, I don't think anyone bites.