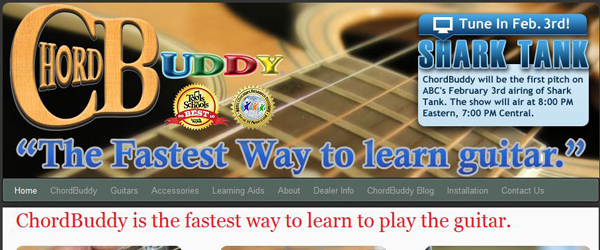 I would have never thought Robert Herjavec would have invested in Chord Buddy but Travis Perry scored a Shark Tank deal and even got Robert to come up sing with him.
Chord Buddy is a device that Travis Perry designed to fit on the neck of a guitar so that anyone can learn how to play. He's got a song book that goes with the device and even sells packages that includes the Guitar.
Chord Buddy is doing well and is available at many stores through the AsSeenOnTV label. If you don't see it in your local store, it's available online.
I could see Travis Perry doing pitches on other products besides the Chord Buddy because he has such a likable personality. He's got that "Larry the Cable Guy" type personality to him. Who knows, they might even be cousins!
It looks like Chord Buddy overhauled on their website. It functions better than before. The Company has a blog, but it needs a ton of work. Even more importantly, it needs Travis Perry's personality inserted in the content. The current content won't keep a reader for any length of time.
Chord Buddy's blogging team needs to check out The Original Runner Company's blog. They do a great job of injecting personality into posts.
I love the Chord Buddy customer video in the lower middle right hand corner of the home page. I missed it the first time through, but caught it when I came back. If I were doing the site, I would put that above the fold so everyone could see it when they landed on the site. They could even do a contest encouraging customers to send in videos in exchange for a giveaway.
Overall, Chord Buddy will do well with their product. I have to admit, I even thought of buying one, but I would need a left-handed model which is not now available. We lefties don't have all the perks right-handed people do!