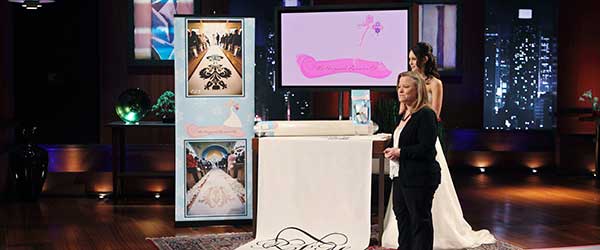 The Original Runner Company is a Shark Tank favorite where Julie Goldman gets a bit "feisty" with the Sharks according to previews of the show. She's strong, but well liked by Shark Tank fans who watched the first run of the show.
Since that time, the show is now getting another re-run and were happy to report that The Original Runner Company is alive and going strong. Julie Goldman is one of the most active Season Two Shark Tank Entrepreneurs who uses blogging and other social media avenues to tell about all of her clientele (who want to share their event).
Julie Goldman and The Original Runner Company has appeared on The View, In Touch Magazine and many bridal magazines, an obvious place for a business like this. Her runner showed up in Kim Kardashian's famous wedding, giving her a ton of publicity as well as having been used in plays such as The Wizard of OZ.
Julie Goldman is a smart business woman who had her company ready for the show traffic, having set her web hosting up to handle the high traffic. She bragged on her blog that her site didn't go down like others who appeared on the show. Congratulations on making a wise decision.
The Original Runner company Shark Tank pitch lasted about ten minutes on TV, but was more like forty-five minutes before editing.  Julie Goldman did say that some comments were taking out of context, which adds to the drama but might be that someone else had a different view of what was said.
Mark Cuban said Julie Goldman is a "RockStar" and she didn't need him for The Original Runner Company. What a great comment from a Shark that can be absolutely brutal when he wants.
The Original Runner Company left without a deal, which looks like it was the best deal of all! The Sharks knew that Julie Goldman didn't need them for anything more than the exposure she got on the show. Tonight marks the third time that her episode has appeared, and will likely net her more traffic than ever!