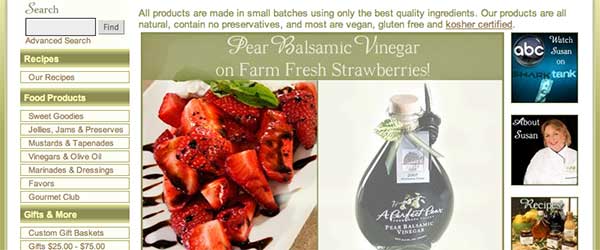 Susan Knapp, founder of A Perfect Pear scored a Shark Tank deal with Robert Herjavec and Kevin Harrington. She came in asking for $500,00 for just 15% of the company on $700,000 in sales.
A Perfect Pear faced a common problem many small businesses face. The company had orders for $100,000 worth of product and the bank wouldn't loan her the money to fill the order. Most people think that's crazy, but it's reality. That's why Angel Investors are critical to Entrepreneurs. I'm glad that Susan Knapp vocalized this issue on national TV.
In most cases, the Shark Tank investors would shut the Entrepreneur down when faced with such a strong evaluation for the company, but this presentation was different as Susan came armed with significant sales for a start-up and an order in hand. Not only that, but food really great food products seem to get the emotions rolling.
Who better to lead the charge than  "Mr. Wonderful", Kevin O'Leary by offering a deal after tasting A Perfect Pear products for the full amount in return for 70% of the company. Daymond John countered with 51%, only to have Robert Herjavec and Kevin Harrington pairing up and agreeing to do the full amount at $500,000 for 50%.
Susan Knapp says she made a few changes to the deal where Robert Herjavec stepped aside on the deal and Kevin Harrington ended up doing the deal. She said she ended up on the Home Shopping Network.
Pears aren't my favorite food, but I bet there are people in my household that would love Susan Knapp's products. Of course, you can always take the reactions from the Shark Tank Investors to say she's got great products.
Three years later, you can buy A Perfect Pear products in several locations including on Susan Knapp's website.
Have you tried A Perfect Pear products? If so, let us know what you think.