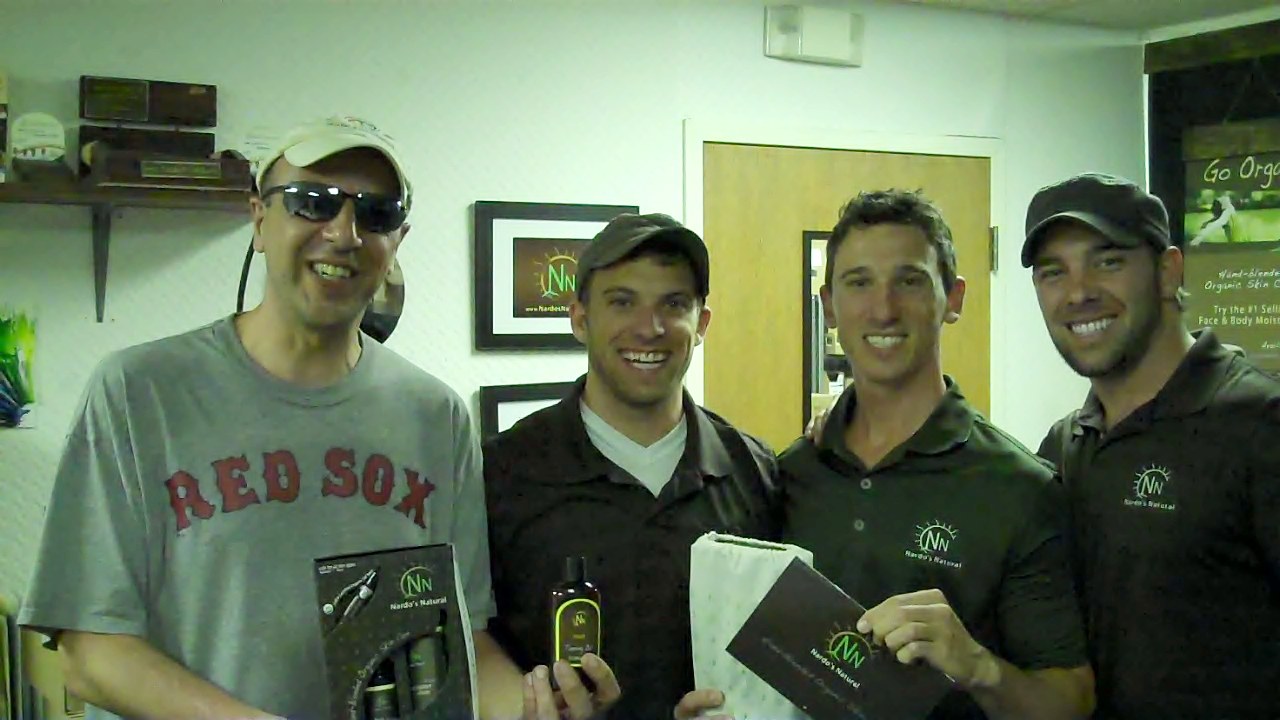 Nardo's Natural, funded by Barbara Corcoran on The Shark Tank earlier this season, is located in Clearwater, Florida. It just so happens I am vacationing in Florida with my family this week. On Monday, the wife and kids went to Adventure Island. I opted to tour a hot dog cart factory and go meet up with KJ, Danny and Kyle Nardo. DJ Nardo was out of the office.
The three boys and I went out for some Detroit Coney Dogs at Luke's in St. Petersburg. We had a grand old time chowing down and shooting a Hot Dog Story.
After lunch, we headed back to the Nardo's Natural world HQ. The boys gave me some good behind the scenes insight into what goes on in the Shark Tank. The four of us chatted for quite some time. They were very proud of signing Tampa Bay Rays pitcher David Price to endorse their newest product, an all organic, natural muscle rub.
KJ and Danny had some work to do, but Kyle had agreed to spend some time letting me interview him on camera. I spent about 45 minutes doing my best Mike Wallace impression and Kyle had some very cool things to say about entrepreneurship, manufacturing in the USA, Barbara Corcoran, and life after the Shark Tank.
Once I return from vacation, I will edit up the interview and post the videos here.
As you may be able to see in the photo above, the guys sent me home with some sun tan oil and a Fourever Young Facial Regimen. The boxed set, which the Nardos donated for one of our Weekly Giveaways, includes daily clarifying facial cleanser & exfoliant, weekly regenerative clay mask, daily rejuvenating face cream, and
hydrating, USDA Certified, Organic peppermint lip balm. Like all Nardo's Natural products, these are free of parabens, synthetic dyes, SLS, and petroleum.
When I got home, my wife and I tried out the facial mask….