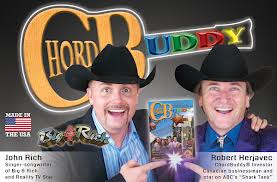 There is a Chord Buddy update in episode 409. Chord Buddy  first appeared in the Shark Tank season 3 premier. Entrepreneur Travis Perry got big laughs when he said he was from "LA – Lower Alabama," but it was his sincere and heartfelt personality and desire to create a musical education product that landed him a deal with Robert Herjavec. Travis had four offers on the table for Chord Buddy, but opted to go with Robert (who claimed to be a wanna-be rock star) who invested $125K for 20% of the business with a pledge to kick in another $50K for an infomercial.
Chord Buddy Update features Country Music's John Rich
John Rich has been on the country music scene since the early 1990's and has had a lot of success as both a singer and a songwriter for a variety of country bands. Mr. Rich will appear in the Chord Buddy update segment. ABC is touting the appearance as a "surprise" to Travis. Maybe Robert is finally going to produce that infomercial, with John Rich as the spokesperson. Whether that happens or not, having Rich in the Chord Buddy update on Shark Tank will be just as good (if not better) than producing an infomercial!
Travis Perry and Chord Buddy, if you'll pardon the pun, really struck a chord with the Sharks, viewers, and many Shark Tank entrepreneurs. Travis had that rare combination of personal charm, a sentimental story and a fantastic product that makes great Shark Tank TV. Chord Buddy has sold a TON of units on Amazon and the guitar learning system has won accolades from musicians and educators alike. The Chord Buddy update segment is perfectly timed for the Holiday gift giving season; it makes a great gift (there will be one for my 8 year old under my Christmas Tree this year). Any product that makes learning fun and easy, whether it's for Math or Music, is sure to be a hit with parents and kids.
Chord Buddy Update Segment another "Feel Good" Shark Tank Success Story
It seems Robert Herjavec only invests in businesses with a "feel good" component, and Chord Buddy fits the bill. Robert won't invest in a business he wouldn't introduce to his children, and his initial motivation to invest in Chord Buddy was to learn the guitar himself so he could be "cool" to his teenage daughters. It will be interesting to see if the Chord Buddy update shows Robert playing the guitar. That would be a super endorsement for Travis and his product.  If you can teach a Shark to play guitar, the world can be your oyster!