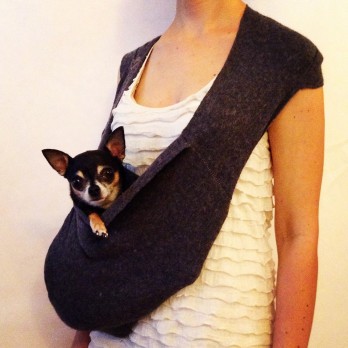 When Anastasia Heart wants to walk her dog, Trixi, the dog might not have to do the walking if she's snuggled in its Heart Pup dog carrier. Ms. Heart made the dog carrier herself, and she has hundreds of them on sale in her Etsy shop. Heart Pup isn't your run of the mill dog carrier, it's a utilitarian fashion statement for folks who want to bring their small dogs along.
Anastasia doesn't call Heart Pup a dog carrier, she calls it a "scarf/sling." It's an apt description, because she bills her creation as a fashion accessory. The Heart Pup dog carrier/scarf/sling is patented, so she does have a proprietary product. She invented it because she's a woman on the go: she likes to travel (with Trixi) and she wanted something that could safely hold and carry Trixi while she goes "hands free."
Designed with dog and human in mind, the Heart Pup lets a small dog snuggle securely in a pocket-like sling while the human has the weight distributed on both shoulders. The result is comfort and ease for pooch and person alike. The dogs might like the comfort (and the free ride), but humans will like the style. The slings come in all sorts of colors and styles; some look like the scarf grandma knitted for you, others look sleek and urbane. She uses a variety of materials in her creations, including leather and cashmere. Fashion does come at a price, most Heart Pup dog carriers cost north of $100!
My Take of the Heart Pup Dog Carrier
I am a dog guy. We have a dog in the family and dogs have been part of my life since I was a kid. I am NOT a small dog guy. I like Jack Russell Terriers (because they THINK they're big dogs), but most of the other small breeds do nothing for me. I just can't bring myself to like a dog that is smaller than half the squirrels in my yard! Small dogs are, to me anyway, like cats that bark. I wouldn't own one and thus would never own a Heart Pup.
I do have several friends and relatives who have small dogs and they ALL have a dog carrier or two in their wardrobe. One of my wife's aunts has two small dogs and I swear, they have a bigger wardrobe than me! The fact is, people who own small dogs usually accessorize. Bailey's idea of an accessory is a bandanna around her neck! While I'd never buy a Heart Pup, I am sure there are many small dog owners who would.
Do Sharks Get Carried Away and Invest?
The only sure thing about this pitch is Robert will grab the dog and pet it. Let's hope he doesn't drop this one, like he did with the Bear and The Rat! Robert will undoubtedly like the dog, but I don't think he'll like the business. I think Mark and Mr. Wonderful will be out on this one, too. Pet products NEVER appeal to those guys.
Daymond and Lori could be interested, they invested in Kane and Couture in season five. If they like Heart Pup and it doesn't compete with their other pet business, either one could make a play. They also could use Kane and Couture's existing sales channel to sell the Heart Pup. While I am not confident Heart Pup gets a deal, I think Daymond and/or Lori is the only hope.