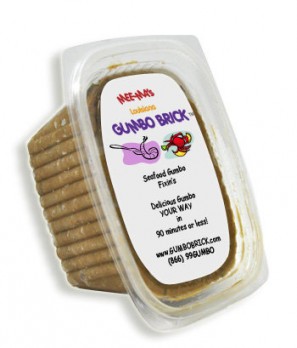 Single mom, former truck driver, restaurateur, and entrepreneur Carol Foster pitches her frozen gumbo, called Mee-Ma's Louisiana Gumbo Brick, in Shark Tank episode 421. Carol's been selling her frozen gumbo "bricks" online since 2007; she used to cook up fresh gumbo in her own restaurant until heavy rain caused the roof to collapse back in 2010. Since then, she's focused on building the gumbo brick business. Carol uses an old family recipe for her frozen gumbo; she's originally from Louisiana – so you know it has to be good gumbo.
The product is essentially a roux, or base, that you add shrimp, sausage, chicken, and anything else you like in your gumbo to complete.  Each frozen gumbo brick gets mixed in with 3-4 pounds of meat and serves 6-8 people.
The Frozen Gumbo Business
I like gumbo. I've had it down in "N'Awlins" and I've made it at home. I like to do mine up with shrimp and sausage. Just like any other regional delicacy, my home cooked version pales in comparison to the "authentic" versions of gumbo I've eaten down south. That's where Mee-Ma's Frozen Gumbo Bricks come in; I can have old school, Louisiana Gumbo without a lot of fuss (or a trip to New Orleans).
As a business, I think a product like this can do well; it's just a matter of finding the customer. Shark Tank will undoubtedly help with that! Currently, Mee-Ma's Frozen Gumbo Bricks are only available in a handful of Los Angeles area markets or online. If this business is going to be successful, they'll need more distribution.
Do Sharks Like Gumbo?
Food businesses are hit or miss in the Shark Tank; some do well, others not so much. Mee-Ma's Frozen Gumbo Brick seems to be a product that would benefit from a Shark's involvement. Distribution is a key component to success and Lori's "team" has built some experience with broadly distributed food products (Bubba's Chicken Dip comes to mind).  I just hope Mr. Wonderful doesn't crack the wise with comments about "gumbocicles!"
Assuming the Sharks like the gumbo, there could be some interest if the numbers add up. Unique food products have a way of sparking a lot of consumer interest when the Sharks say they like them, regardless of whether they invest or not. Carol could get a "win" even if she leaves the tank without a partner. A Shark Tank appearance has a way of getting appointments with big box grocery buyers, so Carol better have her freezer stocked with frozen gumbo bricks!
If the asking rice isn't too outrageous, I can see Carol getting an offer. Regardless of the Sharks' decisions, I am firmly "IN"  with a bowl of gumbo and rice!