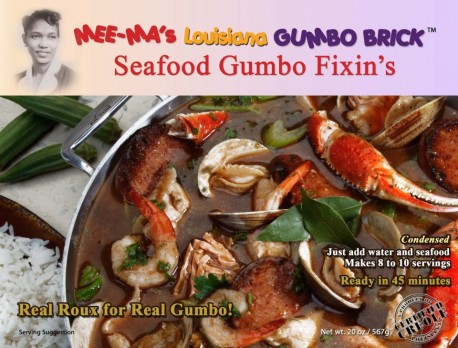 Carol Foster pitches the Sharks on her frozen gumbo product called Mee-Ma's Louisiana Gumbo Brick in Shark Tank episode 421. The single mom and former truck driver is a re-located Louisiana native who broke out an old family recipe for a "N'Awlins" favorite and started selling it online in 2007 and serving it in her restaurant in 2009. Unfortunately, the ceiling of the restaurant collapsed in October, 2010 after heavy rains, but Carol says it was "God lettin' me know it's time to move on and concentrate on the Gumbo Brick." Basically, the gumbo brick is a frozen block of roux base for making authentic Louisiana style gumbo; all you need to do is add sausage and shrimp (and a few more spices if you want some extra ZING). Each gumbo brick "accepts" 3-4 pounds of meat and serves 6-8 people. Mee-Ma's Louisiana Gumbo Brick is available online from their website and at several Los Angeles area independent markets.
Mee-Ma's Louisiana Gumbo Brick Shark Tank Recap
Carol Estella Foster comes to the Shark Tank looking for an investment of $200,000 in return for a 20% stake in Mee-Ma's Louisiana Gumbo Brick. Foster explains how she developed her recipe into frozen "bricks" which contained the base for gumbo, ready for the user to add water and meat.
She's been able to sell $500,000 in two years, appearing in Costco three days a week and presenting the gumbo to customers there. Costco wants to stock Mee-Ma's Louisiana Gumbo Brick, and Foster holds a contract, but she needs financing to meet the order.
Mark Cuban doesn't believe Foster is ready to scale up to the level she's moving toward yet. He's out.
Daymond John agrees with Cuban. He believes she's too small and not ready, and he's out.
Kevin O'Leary says that "the product is fantastic, but the infrastructure just isn't there."
Robert Herjavec believes the margins are too small and believes Foster needs a specific type of partner, who can lead her through the industry and the scaling process. He's out.
Lori Greiner "loves" Foster, and loves the gumbo, but believes the valuation is too high. Foster explains that she's homeless at the moment, and dedicating every moment of her life to getting her business off the ground. In a shocking move, O'Leary speaks up. "This isn't right. This is crazy," he says, devoid of sarcasm. "I'll put up half. Are you in?" Greiner looks slightly shell-shocked, but quickly recovers. The pair offer Foster a deal: $200,000 in exchange for 50% of the company. She's in desperate need of their business acumen, and she accepts. "That's what makes America great; people like you," says O'Leary in a rare sincerely emotional moment. Foster walks out with a Shark deal.
Mee-Ma's Louisiana Gumbo Brick Shark Tank Update
Despite Kevin O'Leary's reputation of having a cash register for a heart, it's clear that Foster's story got to him. Her dedication to her business, and to providing for her young daughter, moved the normally cynical Shark to make an offer on a product he believed in. The deal, however, never closed. Success came modestly at first, but Mee-Ma's Louisiana Gumbo Brick is selling strong. The product is now a staple at Costco, Safeway, Publix, and several other retail outlets, as well as being available online.
At some point after January 3, 2021, the website went dark. It appears the company is out of business, but Carol had $5 million in lifetime sales before she shut the doors. Sometime later in 2021, she reemerged with a redesigned website. For a time, she had product in Albertson's stores in southern California. The bricks are available on the company website. In September, 2022, the website is down again.
Posts about Mee-Ma's Louisiana Gumbo Brick on Shark Tank Blog
Mee-Ma's Louisiana Gumbo Brick Information