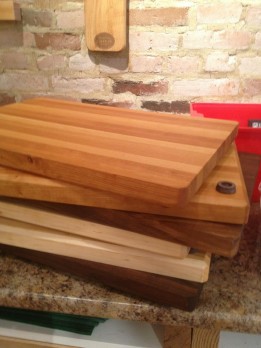 David Glickman, a former New York city business executive, brings his line of Vermont Wood Products to the Shark tank in episode 421. The business is called The Vermont Butcher Block and Board Company and they make cutting boards, utensils, bowls, and decorative items out of native Vermont wood like cherry, maple, and walnut. The business also sells lots of Vermont made food products.
Glickman has an interesting and highly entrepreneurial story. While living the fast paced, New York business man's lifestyle, he got his MBA and discovered what most entrepreneurs already know: to be truly successful, you have to work at something you're passionate about. He liked working with wood, so in 2003, Glickman packed up his family and moved to the Vermont countryside. Soon thereafter, he  began working on creating products from native Vermont wood and The Vermont Butcher Block and Board Company was born.
Vermont Wood Business
My old college roommate lives up in Vermont and he used to play poker with Glickman. They also share a love for German Shepherds. He describes the entrepreneur as a "very engaging guy" who began making his wares from native Vermont wood in his garage. He says the retail store is "wicked nice" and that Glickman is committed to promoting local Vermont food products. Most of the business is done through online sales, but the store is becoming somewhat of a local "attraction."
My ex-roomie said it appears the business is doing very well. It must be, because they don't play poker anymore. The reason is the regular game went from a $50 buy in to over $500! That's too rich for my friend, but not for Mr. Glickman, so there must be some decent cash flow coming in. While the business does well, it sounds like Mr. Glickman has carved out quite a nice lifestyle in the hills of Vermont. My old roommate also told me Glickman madfe a promise to himself in 2003 to wear nothing but tie dyed shirts and he's never seen him in anything BUT a Vermont Butcher Block and Board Company, tie dyed shirt since then.
Will the Sharks Like the Woods?
After talking to my friend, I'll bet the farm Mr. Glickman pitches in a company tie dye. His MBA background and "engaging" manner ought to have the Sharks on their toes. They'll certainly respect his business acumen, but will they like his business?
This has all the markings of no deal. The Vermont Butcher Block and Board Company is a mature business that appears successful. David Glickman sounds like he'll be entertaining, but I can't imagine him giving up too much equity in a company he's built over the past ten years. There may be offers, but they'll be too "Sharky" for his tastes. I'm solidly "IN" (we actually own some Vermont Butcher Block and Board Company cheese boards), but I don't think the Sharks will provide an offer that has the right money to equity mix for Mr. Glickman.