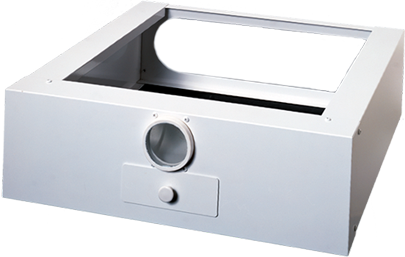 The Heat Helper will be featured on this Friday's Episode of  the Shark Tank TV Show on ABC.
The device takes the heated exhaust from any electric dryer (it will not work on gas dryers) and recycles it to the interior of your home. Their website claims a single load of laundry can suck the warmth out of a 1600 square foot home, causing the furnace to work over time and costing the homeowner money. The Heat Helper has the added benefit of returning humidity to the home during dry winter months and can be switched to vent warm air outside during warmer weather.
The Heat Helper fits under the dryer, which raises its height about nine inches. There is a built in filter for easy cleaning-an added benefit since dryer vents cause approximately 15600 structure fires, 15 deaths, and 400 injuries annually in the USA.  This product is made right here in the USA (Wichita, KS to be exact) and has a real benefit to anyone who owns a dryer and pays for heating their home. These days, any way to be "greener" appeals to consumers and saving money tends to appeal to everyone!
Heat Helper has been featured on HGTV and Paul Harvey prior to appearing on the Shark Tank TV Show. You can order The Heat Helper from their website, for $99 plus shipping and handling. It comes in a 27″ and 29″ size and you can also order two dryer vent hose clamps for an additional $24- an option I'd suggest so you can attach it properly the moment it arrives. There is no information on the entrepreneur(s) behind the product on the site.
This is one of those innovative, common sense type products that serves a real purpose and can certainly help home owners save money while making their homes safer. They've been selling Heat Helpers for at least two years, but  other than the four testimonials on their page (all from customers in Kansas), there is no indication of sales volume. The Heat Helper should pay for itself in saved heating costs in just a few years, so it's one of those "spend money to save money" type of efficiency products – seems like a no brainer for The Sharks, right?
Despite the lack of information about the folks behind the Heat Helper, I did manage to sleuth out their manufacturer, Envirotech Fabrication and Finishing out of Wichita, KS. According to Envirotech's Facebook Page, "one of my customer's will be on the [Shark Tank TV Show]. He did not get picked up by the Sharks but this could be good for his product that we manufacture for him right here in Wichita (The Heat Helper)."
So it looks like the Heat Helper, while it is a good idea, gets dumped by The Sharks.