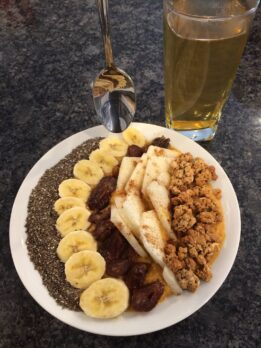 Jica Foods entrepreneurs Xin and Melissa Wang were introduced to Jicama, otherwise know as the Mexican turnip or Mexican potato, on a trip to Mexico back in 2015. They were served the root vegetables sliced into sticks with cilantro and lime and they loved it. They returned home and Melissa began experimenting with different ways to cook the nutrient dense veggie. She fried some into chips and they were an immediate hit on their local farmers market scene.
Xin and Melissa knew they were on to something. There were no other Jicama based snacks on the market, so they decided to make a business out of their new favorite snack. The couple brought skills to the table, too. Melissa has a background in biology and Xin had a background in branding. What they didn't have is the type of "back office" business experience, so they sought out help. With the help of an accelerator program for healthy food brands called AccelFoods, they quickly began building their Jica Foods brand and business.
Xin was instrumental in designing the "stand up pouch" packaging. This gives the product merchandising versatility: they can go on a shelf or on a clip rack. They are in over 1600 Wal Marts, Whole Foods and Sprouts in the southwestern USA selling their Jica based wraps, sticks and salsas and have an eye towards national expansion. A shark could definitely help with that.
My Take on Jica Foods
I usually try every food item on Shark Tank at least once. Sometimes the businesses send them to me free to try and sometimes I get them on Amazon. Two of my favorites are Snacklins and Just the Cheese; I order both regularly. I'd really like to try some of Jica Foods' products, but they don't sell online and they aren't available at any stores in my area!
The taste of Jicama is described as a cross between an apple and a potato. My guess is I'd like them and would add them to my Shark Tank snack repertoire, but I don't understand why they don't sell online. It's strange since most food products that appear in the Tank start out going direct to consumer and they come into the Tank to get on store shelves. That's something the Sharks often caution against due to stocking fees and distribution issues that can hinder start-ups. Maybe they're in the Tank to get help with direct to consumer sales. Either way, I hope they start selling direct to consumer or get their products to stores in Florida so I can try them!
Do Sharks Eat Jicama?
Because Jica Foods isn't direct to consumer, I'm wondering how the Sharks will approach this business. Barbara, Mark, and Kevin have invested in food products on multiple occasions. Mark in particular has a history of investing in food products with a healthy angle and Jica Foods has that angle: they're low in calories, sugar, carbs, high in fiber, Vitamin C,  Potassium and a natural source of prebiotic fiber. In short, they'd fit Mark's healthy food company criteria.
As for Kevin, Lori and Barbara, they might have an interest too, but the addition of Gwyneth Paltrow to the panel as a guest Shark throws a wrench in the works. She's a former vegan and leans towards a Paleo diet these days. I would not be surprised to see her team up on a deal for Jica Foods, but with which Shark? I'm betting she and Mark team up and make an offer for this company.