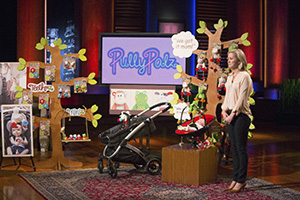 Julie Thompson is excited about pitching Pully Palz, her solution for lost pacifiers, in Shark Tank episode 629. I caught up with Julie before the show aired to find out a bit more about her background and her product.
She started the conversation by saying "I didn't know  what I wanted to be until my thirties." Before catching the entrepreneurial bug, Julie was a Broadcast Journalism major in college, but she never worked in the field. After college, she got into finance and worked on a bond trading desk. She met her husband and moved to Saint Louis where she went into advertising sales. Once they started a family, Julie became a stay-at-home mom. The family moved to Atlanta 3 years ago.
It was during this time as a stay-at home mom, around 2001, with little babies in the house that Julie had her first "AHA moment." She envisioned the Pully Palz concept and wished there was a product like it – there wasn't. Pully Palz was not her first product or entrepreneurial endeavor: the first was a baby stroller.
"I started with another product," Julie explains, "it was a patented stroller concept that I licensed to a company, but they were never produced. During this time, I learned a lot about patent law and met a lot of people in the baby goods industry. Ultimately, I rescinded the stroller agreement; I learned the lesson that licensing is a big leap of faith because you have no control over your product. After this experience had run its course, I took another look at Pully Palz and thought 'why not give this a try?' That's why so much time elapsed between the idea and the execution."
Pully Palz goes from Idea to Product
"One day it just dawned on me that I could make this product and everything kind of clicked. I wanted to develop the product myself, but I didn't even know how to sew, so I watched Youtube videos to learn. My kitchen looked like a stuffed animal explosion! It took about a year to fully develop the product and each of the stuffed animals on the Pully Palz. I got a patent and came close to licensing, but backed off because I thought my prototypes were better."
"I wanted to focus my energy on finding a manufacturer and ended up going to China four times. It ended up taking a solid year of development. While I was developing Pully Palz, I wanted to get the word out, so I went to the ABC Show (a baby products trade show) in September 2012. People had told me they thought it was a good idea, but I wanted to hear it from consumers and retailers. The product was well received and I got 40 pre-orders."
"By the time the ABC Show was over, I still hadn't settled on a manufacturer, plus I still had to do a lot of safety testing and make sure I was following consumer guidelines. I ended up getting the first container of Pully Palz in June, 2013. I actually went to a trade show in May, 2013, a few weeks before I got the container and met Mark and Hannah Lim from Lollacup – they were my booth neighbors! That was probably when I first got an inkling about applying for Shark Tank. After the container came in, I just sold the heck out of them. I went to any applicable trade show and kept processing orders and picking up retailers."
As of a week before show time, it appears Julie's sales efforts paid off. Pully Palz is on the shelves at around 350 baby stores and online at a variety of online retailers, including Amazon. "We have to be careful with Amazon," Julie explains, "because we've had people order wholesale product as if they are a retail store, then they sell on Amazon and cut our prices. We have to protect our pricing because it can affect the brand. The authorized sellers on Amazon have been great, we just need to be more careful."
"Pully Palz isn't in big box chains yet because I can't afford to do it. As a business, you need to reach a certain point to get into big box stores. If something goes wrong, you can be out of business. I need to be able to produce and ship my product, and then wait 90 days to get paid. Typical terms include charge-backs and/or they discount the product and then charge-back. That was one of my main motivations for trying out for Shark Tank, I want to get an investor so I can afford big box. Plus, the Sharks have more leverage than just me. I have never run a business before so I have so much to learn and I want to continue to learn."
The Road to Shark Tank
"I'm a big fan of Shark Tank – the whole family is and we watch it together. When I first met the Lims a year before, I was leery about applying because of the 5% producer's royalty. When I heard they removed that clause, I knew I wanted to try out. I decided I wanted to go to the Atlanta open casting call in January, 2014, but I was committed to a trade show, so I went to the May, 2014 call in Denver instead. It was in a rugby stadium and the line went around the stadium. They had a game while we were in line so at least there was entertainment! I waited 6-7 hours before I got in front of a producer. They 'poker-faced' our audition, but I could tell the producer was intrigued. They told us if they were interested, we'd be contacted in two weeks."
"Ten days later, they called and asked me to do a video. It was an all-consuming process: I had to develop a pitch, then video tape it, plus I had to fill out a huge application. After that it was a series of steps until they finally asked me to come to LA to tape. Even if you tape a segment, there's still no guarantee you'll air."
"As a Broadcast Journalism major, I thought I'd be comfortable in front of camera, but I was nervous wreck! Even now, I don't know what the segment looks like, you just don't know how they're going to edit you, but I didn't do anything horrible. No matter what, Shark Tank was a tremendous opportunity and learning experience, I'm OK with what happpens. I have my own little 'Shark Tank support group.' I've become friendly with Courtney and Christie from Monkey Mat and I taped with Bee Sweet, Home Tee, and Turbo Pup; we've stayed in touch."
Preparing for the Shark Tank Effect
"Throughout it all, my family's been supportive. My husband still works, and we've been through a lot of ups and downs, but ultimately the family recognized the quality of the idea. My kids are SUPER EXCITED; we're having a viewing party at a local sports bar with a bunch of TV's. We're tying the party to a fundraiser for a local home for troubled girls."
"One of the things that came from getting on Shark Tank was a focus on our own online sales. Previously, I wasn't pushing sales to my website, I was focussed on sales and building the brand for other retailers, both on-line and brick and mortar. I'm switching over to Shopify for the show to handle the direct traffic. I have 8000 Pully Palz in stock for the show and the whole family is on call to help fulfill orders. I've lined up my husband and kids, plus my mom, dad, sister and brother-in-law. We're ready for the Shark Tank effect!"
Advice and Inspiration
"For anyone thinking of starting a business, particularly a product based business, make sure you find people in your industry that have manufactured, patented etc to share experiences and benefit from what they've learned as much as you can. Also, read as much as you can on patent law and manufacturing; learn as much as you can. And get a good patent attorney – I LOVE my attorney!"
"As for inspiration, there's a bit of a fine line between being an entrepreneur and being crazy! The number one ingredient for any entrepreneur is determination, you simply have to refuse to give up."
Julie and Pully Palz already know the outcome of what happens in the Tank and I wish her and her family the best. I had one other question for Julie. She answers it on The Hot Dog Truck.