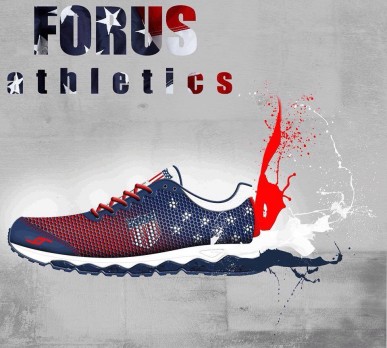 The world is full of entrepreneurs who want to build a better mousetrap and the folks at Forus Athletics are taking that attitude toward building better lightweight running shoes. Forus athletics was founded in 2009 when five Indiana University grads decided their lightweight running shoes "sucked." Thus began the journey of building their version of the better mousetrap.
Two of the five founders, Joel Vinocur and Arsene Millogo, pitch Forus Athletics to the Sharks in episode 629. They want Forus to become a global brand. The name literally is "For Us;" the group of entrepreneurs set out to create lightweight running shoes for themselves. What they did was manufacture a next generation sneaker that looks cool, feels good, and offers all the features of "big name" running shoes and more.
Forus has several patents on their shoe technology. The basic idea is they created lightweight running shoes (6-10 ounces lighter than comparable big brand products), that have built-in orthotic foam insoles, good support, and a shank that bends and shifts with each movement. They put all that inside breathable fabric with shock absorbing soles. At $89 per pair, they're less expensive than comparable big brand running shoes.
The Forus folks are likely looking for a Shark to help them on many levels, from manufacturing to distribution.
My Take on Lightweight Running Shoes
I am not a runner, but I do walk about 4 miles a day (in good weather) and I like a comfortable shoe that provides support and shock absorption. I was researching Forus while thinking about buying new walking shoes for the spring and after reading their story, I did something I almost never do – I ordered a Shark Tank product before the company aired.
I ordered the new Membrane Crypt lightweight running shoes and they came a few days later. I haven't taken them off since! The shoes are everything the company advertised. I went on a walk with them on and it was like walking on air. I am very pleased with the fit and feel of my Forus sneakers; they look really cool too. At $89, they're $40 less than other sneakers/walking shoes I was looking at. As a bonus, Forus sent me an extra pair, so now I am set for sneakers until next spring.
I don't know how sales are at Forus, but I know the shoe/sneaker business is a tough one. I have a very old friend who is an executive at Converse. Whenever I ask her about the shoe business, her reply is always the same: "why in hell would anyone want to go into the shoe business?!?!?" The challenges for a start-up are daunting. Big brands have a lock on manufacturing in many countries and the economy of scale lets them produce their products at a lower cost (and higher margins). The R&D involved is a business unto itself. Sales channels and shelf space are monopolized by big brands too. Getting into the business requires people who are a very special kind of crazy.
I think the Forus folks might be those special folks. The shoes I got were better than my recently discarded pair I purchased last fall for nearly twice the money. For a guy who burns through 3-5 pairs of sneakers a year, that's a significant savings. I really don't care about the label on the product, I care about the quality of the product and Forus is a quality product. Deal or no deal, I'm in and Forus has a new customer.
Do Sharks Run with it?
The Sharks will have the same objections my friend raises. There's no business like shoe business, because it's expensive to enter, hard to get market share, and manufacturing can be a challenge. Forus appears to have overcome many of these hurdles, but will the Sharks see that?
Numbers, as always, will play a part, but the product itself will be a tough sell. Mr. Wonderful will likely list off a litany of objections about the cut-throated nature of the global shoe biz; he'll go out. Daymond already has a big interest in a sneaker company, so unless he can acquire the entire business, he's likely out too. Lori may like the shoes, but the business isn't up her alley, so she's out.
Mark and Robert will like the online sales model, particularly if it's profitable. If Joel and Aresene can demonstrate solid sales with a good plan and couple it with a valuation Mark or Robert can swallow, one of them may bite. I don't think Forus will be deterred if they don't get a deal, but landing a Shark could have this lightweight running shoe company sprinting toward success.