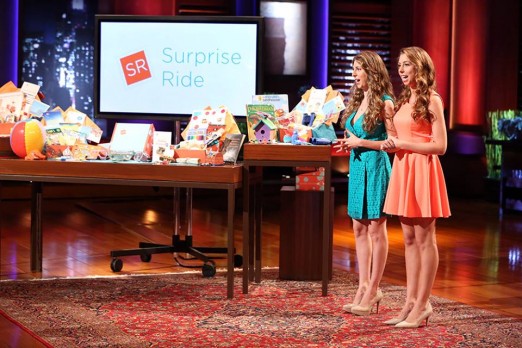 Surprise Ride is a kids gift subscription service created by sisters Donna and Rosy Khalife. They created the business, which sends boxes of educational activities to kids on a monthly basis, out of frustration: they were constantly challenged when shopping for gifts for their nieces and nephews. They harkened back to their own childhood when their father, an artist, would create fun activities for them to help occupy their time. They created their kids gift subscription service in his "image."
Each Surprise Ride box is chock full of crafts, games, even snacks. People who sign their favorite kid up for the kids gift subscription service choose between a one time delivery, or a three or six month subscription. Each collection is themed around something that teaches kids about the world around them, whether it's animals, places, or famous people. Surprise Ride is built on the premise that kids love getting mail and they love games and activities.
My Take on Surprise Ride
When my kids were younger, they would have gone nuts for something like this. It's different, fun, and much better than another piece of injection molded, plastic crap. Parents will like the educational aspect of it and "cool aunties and uncles" will want to be known as the one who signed someone up for this particular service.
At 25 bucks a month for the six month subscription, it's not too expensive. Certainly the one time delivery at 40 bucks is within the boundaries of most people's gift giving budgets. I expect Surprise Ride to do some decent business this holiday season (their appearance is well timed); they may even find a customer in the Shark Tank Blog household!
Will the Sharks Subscribe to a Kids Gift Subscription Service?
When I first started looking at Surprise Ride, the first thing that popped into my mind was Toygaroo, the bankrupt toy rental business that Mark Cuban and Kevin O'Leary funded in season 2. The distinction is Surprise Ride is a kids gift subscription service, not a rental service. It's a distinction the Khalife sisters better make clear early on in their pitch!
Once that obstacle is overcome, the sisters better have some sales. Surprise Ride may be a good idea, but if they're still at the idea stage without much sales, it will be tough to score a deal. If they do have a fair amount of sales and proof of concept, there could be some takers.
Mark Cuban invested in Misto Box, a coffee subscription service, in season 4 – so there's a precedent for the subscription model. As a father, he may see the value in Surprise Ride. Mr. Wonderful will likely offer his standard royalty deal – it seems he does it every week this season! I can't see Daymond or Robert bidding, but Lori may be able to bring value to a kids gift subscription service business; it could sell well on QVC.
I think Surprise Ride will field some offers. I'm "IN" too!