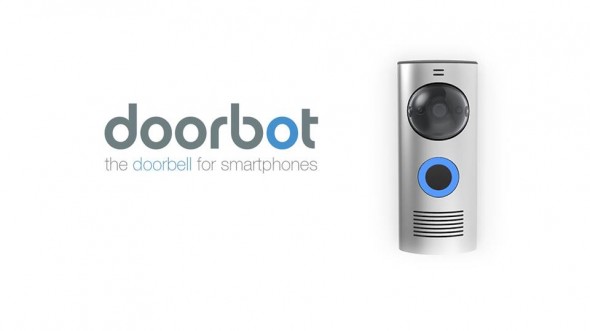 Door Bot is a camera/doorbell/intercom that allows you to view who is at your front door and communicate with them from your smart phone. It doesn't matter if you're in the kitchen or half way around the world, if you have wifi at home and your phone is connected to any network, it will work. It's the internet age's version of the peep-hole in the door.
The Door Bot is the latest in home automation and security technology. More and more "old school" gadgets (like door bells) are becoming smart phone accessible. Many home security system cameras allow for smart phone viewing and internet enabled cameras have been on the market for years, but the Door Bot allows consumers to take a "do it yourself" approach to answering the front door. Unless you have a fairly advanced (and expensive) home security system, the interactive nature of Door Bot isn't an option. At only $199, it's an affordable piece of technology for most security conscious home owners.
My Take on Door Bot
I think the Door Bot is pretty cool. I get a lot of deliveries, so it would be nice just to tell the FedEx or UPS guy to leave the package via the DoorBot if I was busy or unable to hear the doorbell. I think a lot of other people will see the convenience of it as well. Gadget lovers will eat this up and I think you'll see a lot of these in stockings and under Christmas trees this season. Door Bot is a winner!
Will the Sharks Ring the Bell?
Entrepreneur Jamie Siminoff, the inventor of Door Bot, is no stranger to building (and selling) successful technology companies. He's not some wide-eyed newbie cranking out gadgets in his garage with no idea how to market them. He's built and sold two technology companies (Phone Tag and Unsubscribe.com), so he knows the ins and outs of the tech market place. He won't be intimidated by the Sharks and he should be well prepared with his numbers and strategy. His background, should it come up during the pitch, is sure to impress.
I expect a feeding frenzy for the DoorBot. This product has all the makings of a bidding war and could be the pitch that has Robert exclaim "we're not in Kansas anymore!"  I'd be surprised if every Shark wasn't involved in making a play for this product. Expect a deal and HUGE post show sales. I am "IN!"