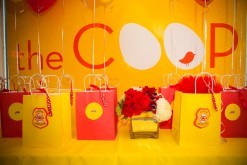 When most people think of a kids play space, they think of a crowded, noisy place loaded with arcade games and climbing structures. The Coop is nothing like that. Entrepreneurs Juliet Boydstun and Lucinda Lent will bring their sleek, modern, kids play space business, The Coop, into the Shark Tank on Tuesday, December 4 for holiday episode 409. The pair of entrepreneurial, LA moms started their kids play space business back in the fall of 2008, and they hope their past success will result in some Shark funding.
kids play space adults can enjoy
Juliet and Lucinda portray themselves as a couple of "fabulous" LA moms who found the transition from young, hip, "chicks" to motherhood a bit traumatic, especially when they found themselves frequenting cacophonous kids play space franchises that offered few creature comforts for the parents that were on hand. They wanted to create a kids play space that was open and airy with quality activities for children and perks for the grown-ups too. This motivated them to start The Coop, where former hip chicks turned moms could bring their kids for some quality play time while their parents stood guard from the roost of the adjoining cappuccino bar.
The pair of momtrepreneurs have found a good niche on the kids play space scene in LA, and The Coop is THE PLACE for cool parents to bring their kids for a good time or a birthday party. Many celebrity moms, like Liv Tyler, Jennifer Garner, Nicole Richie, and more, have had their children's birthday parties at The Coop. "Stark yet stylish," is a term used for The Coop's decor; it's a bright, open space with a lighted disco floor, climbing obstacles, a ball pit, and plenty of durable toys and activities to keep kids occupied while their parents hang in a comfortable cafe' environment, checking their emails on the free WiFi. Juliet and Lucinda have found a much-needed niche in the kids play space market; maybe they can finally deliver us all from the HORROR that is Chuckie Cheese!
Do the Sharks play nice?
The Coop has a few thing going for it when presenting to the Sharks. The concept is great; as a dad who has spent hundreds of hours at a variety of kids play space venues, I can tell you a spot with some creature comforts for the adults in the equation would be most welcome in my neck of the woods. I always joke that the easiest way to get filthy rich would be to have the beer concession at Chuckie Cheese! The reality is most parents crave an environment like The Coop; if it's fun for the kids too – BONUS!
The Coop also has proof of concept. They've been operating with apparent success through the recession in a tough market. If Juliet and Lucinda can keep The Coop afloat for five years, they must be on to something. If the numbers are decent and they have a solid plan for expansion, they could field an offer from the Sharks. I can imagine Barbara Corcoran liking the concept; with her New York real estate savvy, she could bring The Coop to Manhattan and make it a hip east coast kids play space. This concept will fly anywhere there are parents with some disposable income; there are opportunities in cities all over the USA. The business can be duplicated, so it comes down to management strategies, marketing, and margins. If those all work, there will be a Shark in The Coop.
As a dad who has had his nerves shot at kids play spaces from Bonkers Fun House to Chuckie Cheese and more, a soothing place like The Coop that has some space for mom and dad sounds like a slice of heaven. I am "IN!"