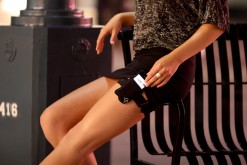 A business that makes a leg holder for cell phones enters the Shark Tank for episode 409, the "Holiday Special." PartiePoche, pronounced "party posh," is a product being brought to market by Connor Pastoor, Jillian Jaccard and "other investors." Connor and Jillian are MBA students and believe their unique leg holder for cell phones will be a must have fashion accessory for women who want to tote their cellphone, credit cards, and cash with them while all dressed up. Think garter belt that doubles as a leg holder for cell phones (and other stuff).
Leg Holder for Cell Phones is not new
While PartiePoche says it has a utility patent pending, the concept of a leg holder for cell phones is not new. There are literally dozens of similar products on the market. A company called Jambeadore  recently taped for Dragon's Den, the Canadian equivalent of Shark Tank, with their version of a leg holder for cell phones. Another company called PortaPocket has been selling a similar leg holder for cell phones in the US since 2007. PartiePoche was very hard to find, too. They have a very sparse Facebook page and their website is on WIX with literally no content other than a couple of email addresses. It hardly seems like a business poised to take advantage of "the Shark Tank effect," let alone one that gets funded.
Will the Sharks pocket a deal?
I have to believe Mr. Wonderful goes out immediately and rips the MBA students in the process. After all, he has recently seen a leg holder for cell phones on Dragons' Dens; why would he cannibalize another company he may have involvement in? At the very least, he'll see PartiePoche as unoriginal, at best. Based on the fact that PartiePoche has virtually no web presence, I have to believe there is no deal made. There are many similar items for sale online, which speaks to the neccessity for a leg holder for cell phones, but not the originality of PartiePoche. If PartiePoche was doing any real business at all, they'd at least have a web page up to sell the product when 8 million people will be watching. I am "out."