This post brought to you by BuzzParadise. All opinions are 100% mine.

LifeKeep is a new service I was introduced to that could drastically change the way people store their digital files and interact online. It's a private, cloud based network that enables users to store data, photos, documents, and digital files of all kinds securely. There is also a private social network of sorts (think Facebook without public access) that allows you to share information and photos with friends and family in a completely private environment that each user controls access to.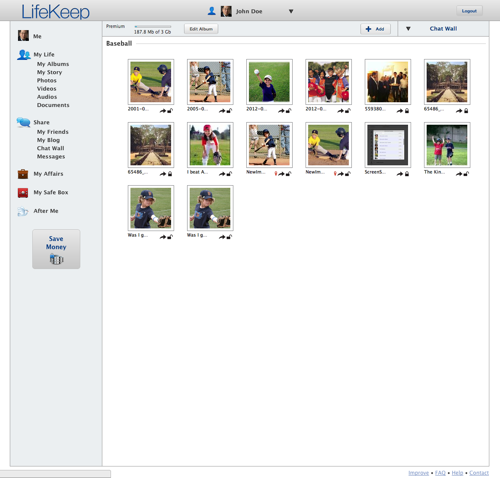 You may be thinking, "so what, I already have all this," but LifeKeep is changing the game. Other social networks and file sharing services allow public access. Even with all privacy settings enabled, Facebook is easily (and frequently) hacked, allowing unscrupulous types to access information you may not wish to share. LifeKeep is a private network, not the public internet, that is secured with AES-256 encryption technology; that's how the federal government secures its data. LifeKeep also allows you to set what your account will do when you die; you can record last wishes and make sure the account looks the way you want it to (or even disappears).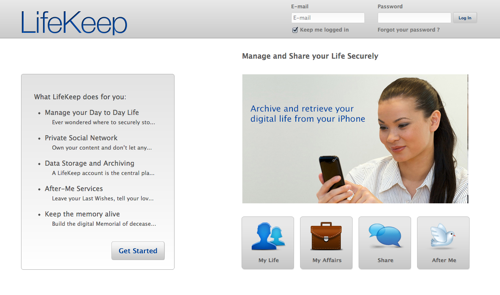 I don't usually get overly enthused about "the next big thing" in social networks, but I spent about a half an hour checking out the LifeKeep website. Facebook and other public, social networks have their appeal, but they are increasingly being used for marketing (I am guilty of that) and Facebook's algorithms make my newsfeed a hodge podge. I originally joined Facebook to easily share photos and notes with family members on the west coast. My account, like many others, has burgeoned into an online beast I can't control. My brother-in-law recently 86'd ALL his social profiles because he felt things were getting out of hand.
There is also a free LifeKeep app that allows you to share photos and files right from your mobile device. The difference is, like the online version, the mobile version is on the secure private network. There's even a built-in panic alarm if you find yourself in a dangerous situation! I am getting a new iPhone in a few weeks and this will be one App that gets installed immediately.
The time has come for LifeKeep. I signed up for a free LifeKeep account and I plan on sharing the info with family and close friends. Maybe I can get my parents to join; they are reluctant to join Facebook due to privacy concerns.  The free account offers 250 MB of storage and access to all LifeKeep features. If you want 3 GB of storage, it will set you back $7.49 a month. Ulimited storage is $12.49 a month. That's comparable pricing to other fee-based cloud file and photo storage services that don't offer the same level of security as LifeKeep; add the extra features and it starts to sound like a bargain.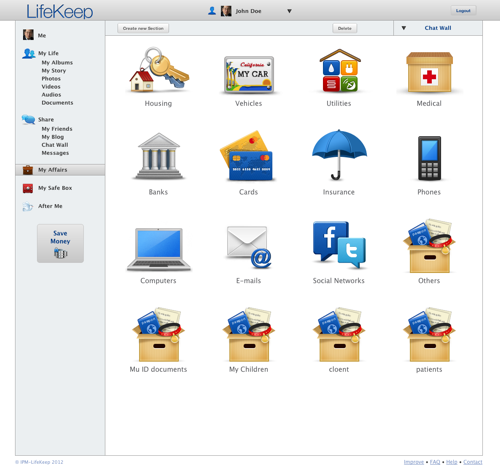 I have been looking for a slution like LifeKeep that can securely stoore all my video and image files. I currently have them backed up on external drives, but I want a back-up for my back-up. As our digital lives create more and more data we wish to have access to, there needs to be a place where people can keep everything organized safely.
As a solution that will help myself and countless others and as a business, when it comes to LifeKeep, I am "IN!"