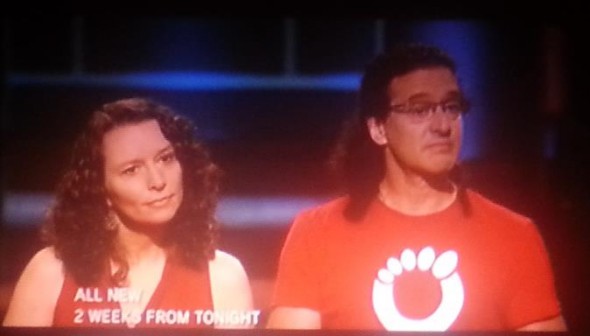 Steve Sashen and his wife, Lena Phoenix, were "happily retired" prior to starting XeroShoes (formerly Invisible Shoes) in December of 2009. Lena initially shot the idea down, but Steve stayed up all night making a website to sell XeroShoes and, like it or not, the Colorado couple was in the shoe-biz! I caught up with Steve and Lena for a pre-show interview to gain some insight into their background, XeroShoes, and some behind the scenes info about the Shark Tank.
XeroShoes Origins
Steve and Lena have both had interesting business backgrounds. Steve made his money selling word processing software he developed in the early 1990's; he also had a ten-year career as a stand-up comedian "on the circuit." Lena is a former mortgage professional and a best-selling author. She wrote The Heart of a Cult, a tale of a spiritually confused web designer named Michelle who gets drawn in to the "alternative spiritual group" lifestyle. (It's an excellent read BTW). The couple had done some real estate investing too, but they cleared out of that when the bubble burst a few years back.
Steve said he was "happily retired" since 2000. He'd been a runner in junior high school, but he returned to the sport as an adult. "I took up competitive sprinting at age 45," he explains, "but I kept getting injured. One day a friend suggested I try barefoot running. When I did, it corrected my form problems. I heard about these minimalist sandals and I began making them for friends. One night, I suggested to Lena that I sell the sandals online; she shot me down. I stayed up all night making a website, and when I showed it to Lena in the morning, she just growled! I've done search engine marketing since the days of Compuserve, so I was able to own the 'barefoot running' keywords. I basically 'gave away the farm' on the website, I showed people how to make their own. Pretty soon, we started selling a lot online and the business took off. That's when I decided to become 'un-retired!'"
Steve Sashen still runs competitively in what has become XeroShoes (the sandals were originally called Invisible Shoes). He claims to be one of the fastest  master's class over 50 year-old sprinters in the country. Lena said, "I'm not much of a runner, but I love being able to feel what is going on, XeroShoes are WAY better than a flip-flop."  Steve adds, "wearing  XeroShoes is the closest thing to being barefoot; it's the back heel strap that makes them so comfortable."
Steve's affinity for running undoubtedly helped him evangelize XeroShoes, but it was an introduction from a friend that really helped get the business rolling. Steve Sashen and Lena Phoenix were introduced to a woman whose family had distributorship rights for a bunch of different brands. That woman's boss introduced Steve to a couple of former Nike and Reebok executives. "They told me natural movement was the next big thing in footwear. They agreed to work with us, but they confessed that their years working for Nike and Reebok made them 'too smart to start their own shoe company!'"
Sashen says XeroShoes has been approached by some big retailers and he said he and Lena will be introducing a new product through the traditional retail channels. They weren't at liberty to say what that product is. "The shoe business is cut throat. We need to make sure our patents and trademarks are in order," he explained.
Steve Sashen and Lena Phoenix Prepare to Swim in the Shark Tank
Steve and Lena are huge fans of the Shark Tank. Steve said "it's one of the few shows we watch in 'real time,' we enjoy being critical about each business presentation. We actually applied to be on season three, but we never heard anything. I re-applied for season four and heard back about three weeks after I sent the email. Then they asked us to send a video in to them in a week. I figured we'd do it over the weekend and we'd be all set."
The video deadline caused a bit of anxiety for Lena. She said, "I was planning a surprise 50th birthday party for Steve the next day! It was very nerve-wracking. He was still surprised and we managed to get the video done. Our mothers were in the other room and by the time we were done making it, they both said they could do the pitch!"
The couple learned they were set to tape in LA in July, but they were sworn to secrecy by the producers (and the fairly stringent Shark Tank NDA). "The hardest part," Lena went on, "was people would always come up to us and say 'you guys should be on Shark Tank!' We'd just kind of agree and go about things." Steve interjects, "Luckily the business was busy, but it seemed like once a week someone would tell one of us 'you'd be awesome on Shark Tank.' I think it's because we have a unique advantage with non traditional shoes and non traditional marketing."
XeroShoes Entrepreneurs Tape in LA
Lena Phoenix and Steve Sashen taped the XeroShoes segment in mid July. "We were taping for somewhere between twenty seconds and two hours," Steve explains, "it was a surreal experience. I'd say we were on for 30-45 minutes, but when we were done, I got the feeling we'd done something not many people get to experience." Lena was a bit wary of sharing details about taping, but Steve was on a roll! "I've pitched in front of  large groups of investors before, it's semi civilized. The Shark Tank only looks semi-civilized. It's more like an unruly classroom. Anything you'd normally do to try to control the situation is out. When you're done, there's this complete adrenaline crash and it hits you that the editors are in complete control."
Steve and Lena wouldn't reveal what happened and they have had a hard time keeping quiet about their dip in the Shark Tank. "We couldn't even tell people we taped," says Steve. "Once we announced it, people were coming up to us asking when we were going to LA. One person thought we were flying out on the first to do it live! We used to watch the show and focus on the businesses, but we're much more aware now that it's entertainment. The fact that they edit it to appear conversational is a real testament to the producers."
As fans, both Steve and Lena liked Villy Customs. "He was at the same stage with his business as we are and he was selling online like us too," says Steve. "I was inspired by his enthusiasm for his business." As far as any parting words of inspiration, Steve Sashen believes being successful is "the right combination of naivety and blind optimism!"
I'll try to follow-up with Steve and Lena after they air. I wish them well. As always, I asked Steve and Lena "THE QUESTION." The answer is over at The Hot Dog Truck.
| | | |
| --- | --- | --- |
| | | Xero Shoes • Original Barefootware |
– "Barefoot.. PLUS!™" sandals
– worn by over 20,000 people in 82 countries, aged 6 to 88
– great for walking, running, hiking, gym-going, yoga, the beach… everything
– you get the fun and health benefits of being barefoot, with a layer of protection
– make them as simple as you want, or decorate them to express yourself
– custom-made to perfectly fit your foot
– inexpensive (starting at $19.95!)
– 5,000 mile warranty!
– WINNER: Grovie Award – Best Huaraches Sandals
– TOP RATED: 94 out of 100 rating from The Running Clinic
Xero Shoes are the closest thing you can get to being barefoot… PLUS a layer of protection,
a perfect fit, and a style you can call your own.