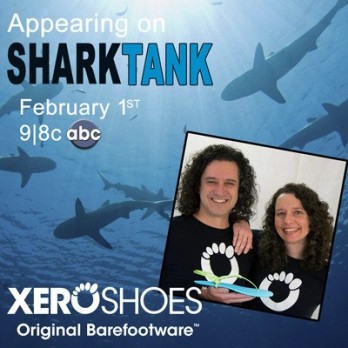 Barefoot running in huarache sandals is an activity that's been going on since pre-Columbian times at least (and probably a lot longer than that). Steve Sashen and his wife, Lena Phoenix, brought huarache sandals and the art of barefoot running into the modern age with their "minimalist sandals," called XeroShoes. They're also bringing them into the Shark Tank on Friday, February 1 in episode 413.
I interviewed Steve Sashen and Lena Phoenix prior to their appearance and they gave me a lot of insight into how XeroShoes (formerly "Invisible Shoes") came to be. Steve's a runner, a sprinter to be exact, and he kept injuring himself wearing conventional footwear. After hearing about the benefits of barefoot running, He experimented with a primitive form of XeroShoes and found he ran better and stopped getting hurt. Soon he was making what was to become XeroShoes for his Barefoot Running club. Not long after this he built a website, much to the chagrin of Lena, and began selling the shoes online.
Barefoot Running gaining popularity
Minimalist footwear isn't just a barefoot running thing, it's the "next big thing" in the shoe industry. Many people tout the benefits of walking or running barefoot, and XeroShoes is one of the companies blazing the trail for this new/old footwear trend. Each XeroShoe comes with two soles, some tying cord, an awl (for poking holes in the soles in the proper spot for sizing). To order, you simply measure your foot according to the website instructions or, if you want XeroShoes to make you a custom pair, you trace your foot.
Steve sent me a pair and I've been wearing them around the house; they're quite comfortable (I am an avowed barefoot type of guy to begin with). I did review them, but I haven't tested them on the beach yet as the northeast is in a bit of a cold snap! Each pair comes with a 5,000 mile warranty – they can be compared to tires for your bare feet. If you like going barefoot, but want protection for the soles of your feet, XeroShoes are a practical and comfortable sandal alternative.
Will the Sharks Like Barefoot Running Shoes?
XeroShoes is one of those businesses that comes to the Shark Tank at an interesting point in their business life cycle. They've been selling the barefoot running shoes since late 2009 – a little over three years. They have proof of concept and they're leaders in their niche. Being hip with the barefoot running crowd helps their credibility, but that won't mean much to the Sharks. Sharks want sales.
Steve compared his business to Villy Customs, the custom beach cruiser company funded by Mark Cuban and Barbara Corcoran in season three. He said they had similar online sales models and were at equivalent points in their respective business life cycles. Whether that transplants to a deal with the Sharks is another matter.
As always, it will come down to the numbers. Steve wouldn't come out and tell me whether they got a deal or not, but I have my suspicions. He did say XeroShoes will be introducing a new product in the big box retail channel soon, which might lead some to believe a Shark is involved. I've spoken to many Shark Tank entrepreneurs, and I've become pretty good at "reading between the lines." If I had to make a guess on whether XeroShoes gets funded or not, I have to say "I abstain!"
Xero Shoes • Original Barefootware
– "Barefoot.. PLUS!™" sandals

– worn by over 20,000 people in 82 countries, aged 6 to 88

– great for walking, running, hiking, gym-going, yoga, the beach… everything

– you get the fun and health benefits of being barefoot, with a layer of protection

– make them as simple as you want, or decorate them to express yourself

– custom-made to perfectly fit your foot

– inexpensive (starting at $19.95!)

– 5,000 mile warranty!

– WINNER: Grovie Award – Best Huaraches Sandals
– TOP RATED: 94 out of 100 rating from The Running Clinic

Xero Shoes are the closest thing you can get to being barefoot… PLUS a layer of protection,

a perfect fit, and a style you can call your own.