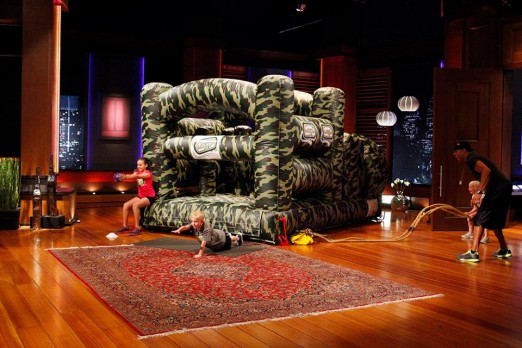 Mobile fitness businesses have existed for quite some time, whether it's a fitness instructor conducting exercise classes "on the road" or a personal trainer traveling to a client's home or gym. On Shark Tank's January 10 episode, we'll see a whole new take on the mobile fitness business when former Green Bay Packer Thomas Hill introduces Bounce Boot Camp to the Sharks.
Hill and his wife started an "inflatables rental" business in 2004 when he hung up the pads. If you've ever been to a kid's party with an inflatable bouncy house, you get the drift. One day while bouncing around with his daughter, Hill realized he was getting quite lathered up and thought making a mobile fitness business as an "add-on" to the inflatables rentals might be a good idea. Bounce Boot Camp was born from the idea that fitness for kids could be fun, so he set out to make it the focus of his business.
Bounce Boot Camp's mobile fitness program isn't just letting kids bounce around for an hour, they have custom designed obstacle courses that encourage cooperative "play" and fun, one on one competition. Parents can set up a boot camp for a birthday party or sign their kids up for a series of sessions at a local Boot Camp "headquarters. Hill even markets to corporations to bring his mobile fitness carnival to corporate team building events.
The big play for Bounce Boot Camp is franchising. They've proven their concept and now they want to take it to the next level. Hill and his family operate out of Scottsdale, AZ, but the website says locations in Paradise Valley, AZ; Chandler, AZ; Peoria, AZ; Tulsa, OK; Tyler, TX; Atlanta, GA and New Orleans, LA are "coming soon."
My Take on Inflatable Mobile Fitness
With five kids, we've had our fair share of bounces over the years. Every summer, we have a big party and a bouncy house is one of the things we get to entertain the kids. Speaking from experience, KIDS LOVE INFLATABLES (a lot of adults do too)! By combining inflatable fun with a mobile fitness concept, Mr. Hill has a winner on his hands.
The days when mom said "go outside and play" as a viable exercise option are, for reasons I won't get into here, long gone. On the Bounce Boot Camp website, they say childhood obesity is a big problem in the USA. Providing kids with fitness options that "feel" like play is a great way to get them off the couch and moving around.
Hill isn't just putting a new idea out there, either. He's been in business nearly ten years, he's a certified fitness instructor, and he's a former pro athlete; he knows what it takes to get kids motivated to move around. As he says on his website: "Lifelong healthy habits start with children, and every child should have access to the coaching and instruction that will help them develop these habits."
Bounce Boot Camp takes that mission statement and goes out and sells it in a caring and community oriented fashion, now they want to expand, through franchising, all over the country. I think it's a good franchising concept. Inflatable rentals are a decent business, but adding a mobile fitness component to that business takes it to another level. Having the support of a veteran in the business and a guy who appeared on national TV is a definite value-add.
Do Sharks Bounce?
Kid's party franchises have been hit or miss on Shark Tank in the past. The Sharks took a pass on Games2U in season 2 and two years later the business was global with over 150 franchisees. The Coop got an investment from Barbara in season 4 and they are CRUSHING it with over $1 million in sales in one year. Bot Games2U and the Coop were featured in update segments. The Sharks have to know well-run, kid-related franchises can be BIG earners.
The video intro for episode 515 shows Robert going through a bouncy obstacle course and having a heck of a time. Whether that results in an investment will depend on the numbers. If Bounce Boot Camp has a solid financial ledger, they'll likely field multiple offers. Even if they don't get an investment, they are well on the way to an update segment as a Shark Tank success story with their mobile fitness concept. I am 100% bouncing "IN!"