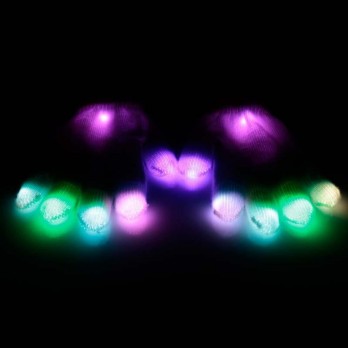 Brian Lim probably didn't think he'd end up on Shark Tank when he made his first set of glow in the dark rave gloves back in 2010. He was just looking to add some pizzazz to his local EDM scene, but it turned into a multi-million dollar business! Brian, along with some assistants, pitches Emazing Lights, his line of rave gloves and other glowing accessories, in Shark Tank episode 621 on Friday, March 13.
The EDM scene is big – it's a multi-billion dollar industry. That's why Lim and his rave gloves are the second EDM inspired business to appear in the Tank in season six (Booby Pack was the other). Mr. Lim built Emazing Lights from selling rave gloves out of the trunk of his car to an online empire that's generated over $16 million in sales in just 5 years.
Emazing Lights has spawned a new sub culture in the rave/EDM scene. "Glovers" perform elaborate maneuvers, creating personal light shows in the darkened venues. As it states on their website: "your hands are the paintbrush, and your imagination is the canvas." Emazing Lights has credibility on the rave scene because it supports the artists, whether through advocacy (some venues don't like glovers), education (they have a bunch of how-to videos), and sheer knowledge (there are several well-known glovers on staff). They grew the business initially by bringing the product to the end-users; now they have a booming eCommerce business.
My Take on Rave Gloves
The EDM scene is way out of my zone, but I bet rave gloves would have gone over well at the many Grateful Dead shows I attended back in the day. The gloving experience lends itself to a trippy, free-flowing atmosphere; the rave scene is similar to the Dead scene, the music's just different.
I probably wouldn't rush out to buy a pair of rave gloves, but the kids would like them!
Do Sharks Rave On?
The best thing Lim has going for him in the Tank is his sales. The Sharks will also like the grass-roots way he built the business. He started with about $500 and has over $16 million in sales – it's a Shark Tank dream pitch. The only thing that will prevent him from getting a deal is a ridiculous valuation.
I could see any of the Sharks going for this, but Robert, Mr. Wonderful, and Mark will latch on to the successful eCommerce business. If Lim is making as much as he claims with eCommerce, the techie Sharks will want a piece of it. Daymond, who is a bit of a night clubber, may see the value beyond the rave scene; his manufacturing expertise could be an asset to Emazing Lights. I can't see Lori going for this; it's a bit out of her comfort zone.
I think Mr. Lim will field an offer or two, I'm not sure if he'll be willing to give up too much equity though. This pitch could go either way.