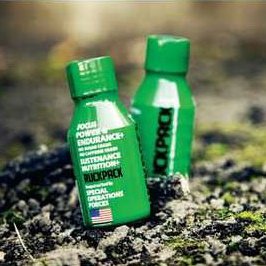 RuckPack is the latest nutritional supplement/energy drink to be featured on Shark Tank in season four. The self-proclaimed "lifestyle" supplement was developed by Major Robert Dyer, an active duty Marine Corps aviation officer, a highly decorated combat veteran of Iraq and Afghanistan, and an entrepreneur. Dyer pitches RuckPack to the Sharks in episode 411, appropriately airing the same week as Veteran's Day, hoping they'll invest in his combat tested energy supplement.
What is RuckPack?
Simply put, RuckPack is another nutritional supplement/energy drink that does not use caffeine or sugars (although they do have a caffeinated version for the caffeine junkies out there) for a boost. Instead, RuckPack combines ingredients essential to supplying core nutrients to the body. Dyer developed RuckPack on the battlefield and tested it with active duty military personnel. Ingredients include: Vitamins C, B6,  D3, Calcium, Magnesium, L-Citrulline, Electrolytes, and Potassium.  All RuckPack ingredients work together to promote lasting energy and core wellness.
RuckPack's website says the product may be beneficial in helping relieve symptoms from the following list of conditions: Burning Fat, Relieving Stress, Improving Sex Lives, Boosting Testosterone, Fighting High Blood Pressure, Diminishing the Effects of Aging, Improving Memory, Alleviating PMS Symptoms, Battling Hangovers, Fighting Arthritis, Helping the Heart & Circulation. That's quite a list!
RuckPack is a subsidiary of Noots Nutrition, LLC, a company formed by Dyer and other military families. The company is 80% military or veteran owned and pledges to give 10% of profits back. The RuckPack 10% Back Pact is the most moral business plan ever presented on Shark Tank:
"RuckPack was founded by Service Members of the United States Armed Forces. We know what it means to serve. We have sacrificed our individual time and freedoms for the benefit of this great nation. We have each left behind loved ones for 6-12 month combat deployments, risking our lives and leaving our families to manage the home front without a guarantee for the future. We have taken this same commitment to country and applied it to our business model. While we can't guarantee our futures, we will strive to guarantee the future of America. We will always give a minimum of 10% of our profits to not for profit organizations in an effort to build a stronger nation. We believe that while business is, at its root, an opportunity to attain wealth, wealth is a moral obligation to take care of those in need. Our aim of 10% is a minimum goal. As profits and company stability increase so will the percentage we return to communities in need. We will strive to attain a 40% donation point."
Will the Sharks Drink Up on RuckPack?
The Sharks may or may not be moved by the RuckPack 10% Back Pact ( I suspect they'll find it admirable, but will scrutinize it); what this pitch will come down to is the value, the overall business plan, and whether the Sharks think another energy/nutritional supplement is worthy of investment. This season we saw Marz Sprays get a deal with Lori and PRO-NRG get a deal with Daymond. Both products are in the same niche, but offer a different twist on the standard energy supplements found on convenience store counters everywhere. We are seeing an evolution of the supplement space happen before our eyes in the Shark Tank. Standard caffeine and fructose loaded energy shots are being crowded out by a new generation of supplements with more (if I may use the term for this type of product) "wholesome" ingredients.
I am sure the military discipline applied to this business will prove it as a solid company with a good plan in place, the real test will be can RuckPack stand out in an increasingly crowded field. One thing RuckPack has going for it is the patriotic angle; some people will buy RuckPack over another similar product just because veterans are running the company. It's kind of like a celebrity endorsement. I'd imagine active military and veterans would be more likely to purchase RuckPack if they knew the story.
Lori is working with Marz Sprays (plus she isn't on this week) and Daymond is in deep with PRO-NRG, so neither of them would be likely to invest in RuckPack. With the success of these other companies, one of the other Sharks may take a flyer. Barbara likes food related products and her maternal business instincts may find RuckPack attractive. Since RuckPack is a "feel good" pitch, Robert will likely make a play. Mark Cuban isn't big on this sort of thing, but the military angle might interest him too. I would normally expect Kevin to make a "royalty pitch" (he needs a new approach), but this week's video preview makes other insinuations. Is this the pitch that finally melts Mr. Wonderful's icy business exterior? Whether the Sharks invest or not, all I can say about RuckPack is "HOO-RAH! I am IN."