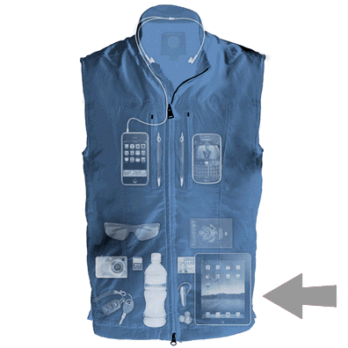 Scott Jordan, TEC (Technology Enabled Clothing) entrepreneur who appeared on last Friday's Shark Tank and I had the opportunity to speak after the show. This is the first in a series of three posts based on that discussion.
The Scott Jordan appearance on Friday's Shark Tank spurred a lot of controversy with sharks and fans alike. He was vilified for being a "patent troll" (someone who files frivolous patent infringement lawsuits for profit) by Mark Cuban and accused by the other sharks for being greedy by only offering a share of the licensing piece of his business and not part of the $6 million plus per year retail division, ScotteVest.
Scott Jordan TEC Pitch
Scott was looking for $500,000 for 15% of the TEC brand which he wants to license to clothing manufacturers. The sharks wanted him to include 15% of his retail business as part of the deal and Scott was having none of it. When he began to explain the licensing business, Mark Cuban wanted no part of it and got all over him for frivolously litigating in defense of his patent. Mark went so far as to get on a soapbox and spew that these sorts of lawsuits are "what is wrong with this country." This struck me as disingenuous at best by Mr. Cuban. If I went and set up shop selling Dallas Mavericks tee shirts without a licensing agreement in place, both Cuban and the NBA would have an army of attorneys and most likely the Justice Department descending on me in no time. Cuban's attack on Mr. Jordan is even more self-serving when you realize the NBA has a recent history of ignoring enforceable intellectual property infringement claims. Patents were created to protect ideas and to protect the creators of those ideas so they may profit from them. Any billionaire who makes a good chunk of change from licensing ought to understand that.
Scott's patents for TEC are real and valid. He created a clothing innovation that was initially patented, re-issued and re-examined by the US Patent office. It is a valid patent. It's not the only clothing related patent out there either. Levi's jeans patented the rivets in their dungarees; Velcro, a product used in some of ScotteVest's clothing, is patented; the zipper was patented; there is even a patent pending for Tazer Proof clothing. It's not a new concept to patent clothing by any stretch of the imagination and it would be foolish not to defend against anyone infringing on any patent.  One of the very first questions the sharks ask whenever an entrepreneur presents a new gadget is: "is it patented?" Even Barbara Corcoran said (on Twitter Friday night), "a pantent (sic) is only as good as the money that you are willing to spend to defend it."
Come back for Part Two Tomorrow