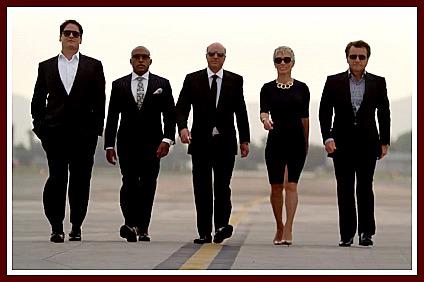 Season 4 Episode 403 features four new entrepreneurs who jump in the Shark Tank hoping to fund their businesses. The Sharks in the Shark Tank tonight are Barbara Corcoran, Mark Cuban, Robert Herjavec, Daymond John and Kevin O'Leary.
Season 4 Episode 403
Season 4 Episode 403 Entrepreneur Lee Dahlberg
RockBands is a fashion accessory line that utilizes the new age healing power of stones and exotic leathers as components. The flagship product is a line of wrist bands that exude style and an edgy, rock and roll attitude. Entrepreneur Lee Dahlberg, a former model turned designer enlists the help of Robin Leach in his pitch. Will RockBands get the funding to expand or will Dahlberg find himself in the Lifestyles of the not-so-rich and famous?
Season 4 Episode 403 Entrepreneur Liz Lovely
Liz Lovely is a vegan, gluten free cookie company out of Vermont. Husband and wife entrepreneurs Dan and Liz Holtz make cookies from organic ingredients that taste good without the processed crud found in most mass produced cookies. Will the sharks in the Shark Tank bite on this trending, wholesome food company or will the Holtz's dreams crumble before their eyes?
Season 4 Episode 403 Tereson Dupuy
FuzziBunz is the leading cloth diaper company in the world. With many color combinations and unique fleece lined diapers, entrepreneur Tereson Dupuy has made quite a name for herself as "the diaper Queen" over the past twleve years. Will the sharks see the benefit of FuzziBunz as re-usable necessities or will they think the business stinks?
Season 4 Episode 403 Mike Lane & Matt Franklin
PostureNOW is a posture correction device that helps improve posture by training good muscle memory. Entrepreneurs Mike Lane and Matt Franklin enlist the help of   Jonathan Roberts and Anna Trebunskaya from Dancing with the Stars to demonstrate the grace a good posture can provide. Will the sharks stand up straight and fund PostureNOW or will the leave the entrepreneurs in a slump?
Follow Up Stephan Aarstol
In the follow-up segment, Stephan Aarstol updates viewers on the success of Tower Paddle Boards, the stand up paddle board company funded by Mark Cuban in season three. I have read that Tower Paddle Boards is doing quite well and has nearly paid Cuban back all the money he invested.