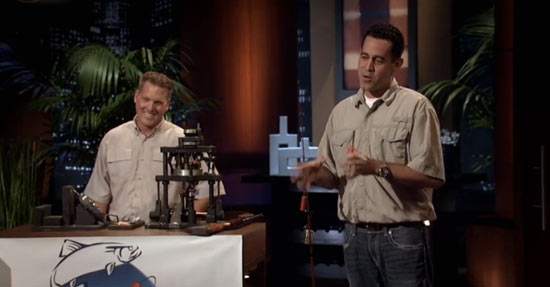 There is a Shell Bobbers update segment in episode 509 in season 5 on October 25. Shell Bobbers is one of those simple, little products that catches on and makes someone rich. In this case, entrepreneurs Jeff Stafford and Dusty Holloway hooked a Shark when Mark Cuban invested in their fishing bobbers made from shot-gun shell casings and helped take them from Dusty's garage to nationwide distribution in a matter of months.
I caught up with Jeff Stafford to get a Shell Bobbers update of my own to share with readers of the Shark Tank Blog. There are some big fish to catch with this business, and Jeff and Dusty have their own Shark to help catch them!
Shell Bobbers Update on Mark Cuban and RackSpace
Time after time, when businesses appear on Shark Tank, they don't Shark proof their website and they end up crashing, thus missing out on a once in a lifetime sales opportunity. Jeff had a few things to say on that subject.
"We tracked about 50,000 visitors to the site on show night, which is a bit low by Shark Tank standards. Mark set us up on RackSpace, so we didn't experience any down time. All in all, we've done about $100,000 in sales since the show. Mark sends emails early in the morning and we've been talking once a week. He's built a team around him that helps us deal with the retail end of things, but if we need to talk to him directly, he responds."
Shell Bobbers Fishes for Sharks
Jeff and Dusty really didn't have a business, they had an idea. "We had virtually no sales before the show," Jeff explains, "we had an idea. Dusty's brother-in-law told us about the open casting call in Orlando, so we decided to check it out. I thought I was going to be early, but when I got there, the line stretched all the way around the building. I had to work that day, so I almost left, but I waited. It took five hours to be interviewed. I sure am glad I stayed! I've been a fan of the show since season 1."
"I used to get sleep, but since being on Shark Tank, I don't sleep anymore! Almost overnight we went from Dusty's garage to a small warehouse space and we just moved again to bigger space in Ovedia, FL. We needed it. We got a shipment of 660,000 shot-gun shell casings. It's basically an entire container. That amount of inventory takes up a lot of space, but we needed to buy in that quantity to get our margins down."
"We got a big order through 7-11. They have about 3,000 bait and tackle stores nationwide and Shell Bobbers are going on the shelves there. I had no idea there was such a thing as a 7-11 bait and tackle store until now – but I'm glad we're going in there. We're also talking to WalMart."
Getting Back to Shark Tank
"We got a call from the producers last summer, just to see how things were going. Since we had no sales before taping, any progress was good. When I told them about 7-11 and our sales numbers, they decided to send a film crew. There were some other things they liked about our story, too."
"We have a few new machines to help us with production – those will be on the Shell Bobbers update on the 25th – but there's still a lot that needs to get done by hand. There are a few local college and high school kids helping us with that. On the update you'll see us high fiving the kids. The producers liked that we were employing local people and they liked our sales numbers."
As a fisherman myself, Jeff and I shared a few stories about fishing in Florida and fishing with children. I told him I thought he'd do well in bait and tackle shops and at WalMart because bobbers are a bit of an impulse item and the novelty of Shell Bobbers should drive a lot of impulse sales.  He replied, "I hope to God you're right about that!"
Shell Bobbers are selling fairly well on Amazon, but web sales aren't where it's at for this product. "Shell Bobbers needs to be in a retail environment. People don't ordinarily order fishing tackle online. They pick stuff up locally, so we really need to be in front of them in the retail shops."
Moving Forward
The Shark Tank experience has been terrific. We've connected with a few past entrepreneurs in our area like Mark from Qubits, Byron from CordaRoys, and Phil from UniKey. It's great being part of that community."
Since we were on the show, it's been a learning experience every single day. There are so many little decisions you don't plan for when you start a business. You're focused on your ideas and your product. It isn't until you get into it that you see all the other challenges. We're constantly grappling with constant change.  Getting into retail is complicated and we deal with new things daily."
Jeff had some words of wisdom for would be entrepreneurs:
People always seem to want to devil's advocate themselves out of an idea. Regardless of the idea, you should push and go for it, at least you'll learn something. It may sound cliché, but if it doesn't kill you, it makes you stronger."
Jeff answered one more question for me. His answer is on The Hot Dog Truck.