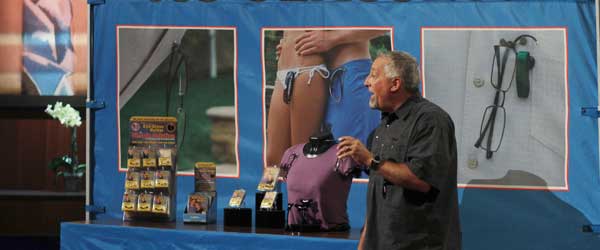 SpecSecure by Readerest founder, Rick Hopper enters The Shark Tank to pitch his invention, an eye glass holder designed to keep spectacles from falling on the floor when loosely left in the pocket.
Even though the SpecSecure Readerest is designed for glasses, customers have been found to use it for other purposes such as holding Bluetooth phone devices, golf tees and even fishing hooks (that could hurt if the hook went through your shirt!) I wonder if Rick Hopper would demonstrate that one for us.

Hopper is making the SpecSecure by Readerest a fashion piece with designs like hearts, Aviator Wings and more. He's producing YouTube videos to market the product demonstrating the designs and the strength of the SpecSecure Eye Glass Holder. He's kept the videos short, a wise move in marketing strategy.
Another concern is the Readerest website doesn't have a blog or an about page. This is a serious marketing miss because the about page is one of the most read pages on websites in general. Potential customers often want to read the story on how the product came about and they want to get to know who they are buying from. He shares the eyewear problem and solution in a video, but it doesn't quite hit on the emotion it could if he were to get more personal in his videos and on his site.
SpecSecure by Readerest can be bought online using Major Credit cards and even PayPal which many customers would like. Rick Hopper created Wholesale packages designed for merchants such as gift shops, convenience stores and others. The display looks welcoming.
It's clear that Rick Hopper is creative and has come up with many unique styles to for a simple product. The question is, does he get the money? Here's the SpecSecure by Readerest Shark Tank Prediction….