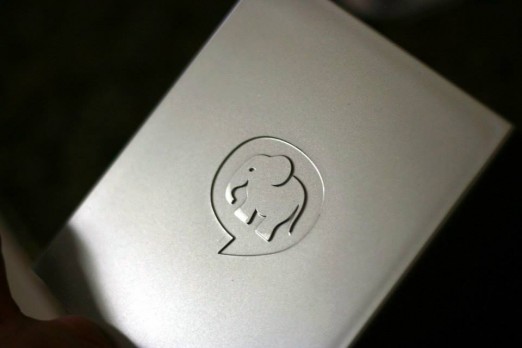 Ever hear of "the elephant in the room?" It's like a big cloud hanging over people, many times those who are closest to us. The elephant in the room is that topic of discussion nobody wants to bring up. Jason and Amanda Adams, founders of Elephant Chat, found a unique way to get that elephant out and start talking about uncomfortable subjects.
What they did is they packed a stuffed elephant into a plastic cube with a metallic covered sleeve. Then they constructed a system for communicating around it. You put the cube out in a conspicuous place, remove the cover – indicating you want to talk about the elephant in the room, figure out the right time to talk, take turns talking by passing the elephant back and forth, acknowledge each other's feelings and come to a resolution on the issue, repeat.
My Take on Elephant Chat
What the Adams' are doing is important to keep a relationship healthy. They've come up with a new spin on "the talking stick" to help couples communicate. My wife and I are both on "the second time around," so I know the challenges of blending a family – just like the Adams' do. Without some way to foster good communication, any marriage is ultimately doomed.
The thing I don't get is why spend money on yet another stuffed animal (another by-product of blended families is an over abundance of stuffed toys)? A simple set of rules for communicating ought to work. There are probably couples who will buy this, or rather one person will buy it for "both of us." This may foster more communication, but it could also start a fight!
Do Sharks Bite the Elephant in the Room?
This will likely be a heartfelt pitch – perhaps a few tears will be shed, too. I just don't see the Sharks biting on this. It's basically a stuffed elephant in a plastic box with some special instructions. There's nothing proprietary. I think Mr. Wonderful will shred this one. The only thing that makes me think they might get a deal is they just revamped their website and re-named the elephant "Lori the Listening Elephant." Lori either makes a deal with them or pisses them off so much they named their elephant after her as an insult!
A revamped website prior to show date used to be a good sign a business gets a deal. These days, any savvy entrepreneur gets their buisness website juiced up for Shark Tank, so it's not necessarily an indicator. I think the elephant leaves the room without a deal.