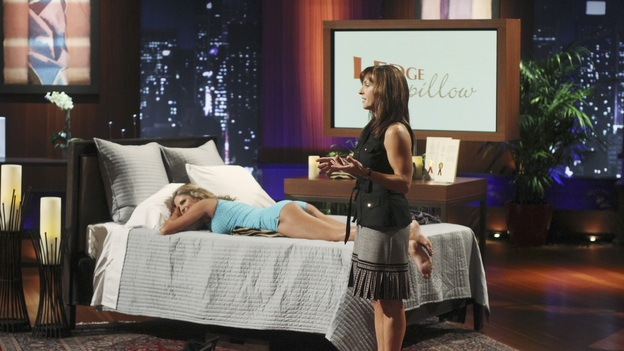 What do you do when you have a marginal product that you want to fund on The Shark Tank? Trot out a buxom babe to help demonstrate it, that's what. This pitch started off with something that always sells: sex appeal.  Amanda immediately had the men in her pocket. Unfortunately, her pocket had a big hole in it.
Her idea was a modification on a basic memory foam pillow with a specific target market of women with enhanced and/or large breasts. Once the initial infatuation with the sexy model wore off, the flaws of the product and the business plan came rapidly.
Amanda, like the Last Lid entrepreneur, had little more than a prototype and an idea- a bad idea at that. Her problem was the product didn't solve a big enough problem for a large enough market. The Last Lid entrepreneur had less than her in the way of an "in place" business, but unlike Mr. Kiernan, whose product had a potential market of up to 115 million households, Amanda's Ledge Pillow has a market that is far too narrow and already has big players like Tempur-Pedic in the space.  Even though she did have a patent on the product- something the sharks like, I knew she was doomed before she started.
The sharks immediately began criticizing her product and her concept. Mark Cuban ripped her for only selling 83 units in 3 years, then delivered the ultimate insult by calling her a "wantrepreneur."
Two things immediately struck me when I watched this segment. The first was that she should probably just open up a niche website and sell this item through some affiliate marketing channels. When I clicked on the Ledge Pillow website, I found a fairly simple, but well done WordPress website. Her site didn't have the vibrancy needed for mass marketing of a product, but did fit the bill for a tidy affiliate marketing niche website. If she did a good bit of SEO, she could probably quadruple her past sales, especially with the exposure being thrown to the sharks gave her.
The second thing I thought about was the product itself. I always apply my own experience and sensibilities when I see a product on the Shark Tank and the Ledge Pillow certainly isn't something I would buy (I'm a tad smaller than a C-cup), nor could I recommend it. One thing kept resounding in my mind: sleeping on your stomach is bad for your back. I have suffered with low back pain for years and my chiropractor has always said not to sleep on my back. Well endowed women I have known over the years have complained about back pain too, but I won't pretend to speculate as to the causes or solutions in that particular situation. Sleeping on your stomach is a major cause of lordosis, commonly called swayback; if I were one of the Sharks, I wouldn't do a deal for that reason alone.
I wish Amanda well with her product. I think her best bet to make some sales is to focus on building a more efficient sales channel with her website. Whether she learns for herself or implements a professional SEO campaign, that is probably her best bet to put herself in a position to sell more product in a space dominated by much bigger players.