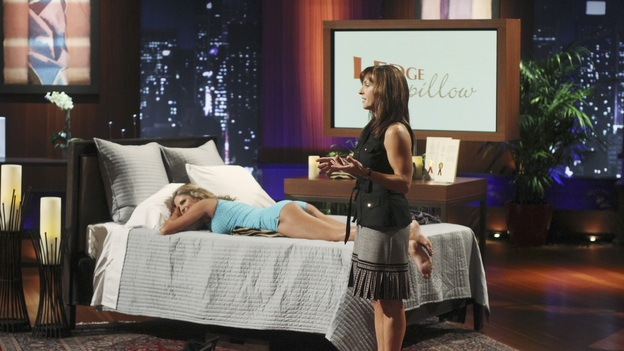 The Ledge Pillow, commonly referred to as "the boob pillow," was presented to the Sharks by entrepreneur Amanda Schlechter in episode 303 in season 3.  The Ledge Pillow is a modification of a basic memory foam pillow which allows its target market of women with enhanced and/or large breasts to lie on their stomach comfortably. Amanda was running the business for three years prior to her Shark Tank appearance, but she only had 83 sales to date. With a very basic website and very little marketing, she was looking for help from the Sharks to get the business jump started.
Ledge Pillow Pitch to the Sharks
Amanda was seeking a $30k for a 25% share in The Ledge Pillow. She was accompanied on stage by a sexy, well-endowed, model who demonstrated the product. The Sharks were not impressed by The Ledge Pillow. Lori told Amanda she should change the name, then went out. Kevin O'Leary thought the market was too small, and Robert Herjavec thought the market would have already found her by now; they both went out. Daymond John quickly followed, stating he couldn't bring value to the table. Mark Cuban called her a "wantrepreneur" and said she didn't want it enough, and he went out. Amanda left the tank empty-handed.
After Shark Tank
Amanda had a rudimentary website for The Ledge Pillow prior to appearing on Shark Tank and it hasn't changed much since. Based on viewer reaction to the episode, it appears she could have made some sales. The fact that the website hasn't changed much speaks volumes; there can't be THAT MUCH business if there hasn't been a web upgrade in nearly a year. Her Facebook page doesn't have a lot of activity either. This product has some real potential, there have been many inquiries about it in the comments on this site about it and there was a flurry of internet activity in the original air date's aftermath. With a little time and SEO, this product has the potential to be a solid selling product. Unfortunately, the business shuttered in 2012 and Amanda continues to practice law at the Nason Yeager firm, where she is a shareholder.
Posts about The Ledge Pillow on SharkTankBlog