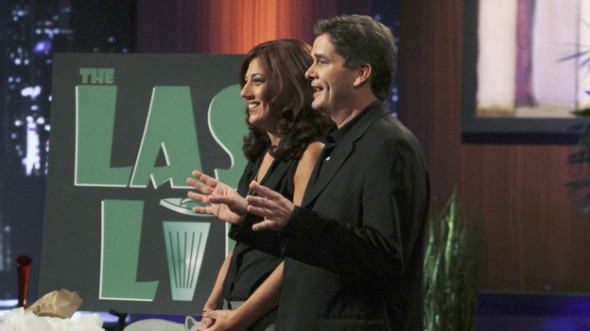 The Last Lid husband and wife entrepreneurs Kevin and Melissa Kiernan pitched the Sharks on their adjustable, water-resistant, heavy-duty fabric, replacement trash can cover in episode 303. The product was created out of necessity when Kevin searched high and low for a replacement trash can lid for his trash cans and couldn't find one. Kevin designed The Last Lid to fit any trash can cover and keep pesky raccoons and other critters from spilling trash all over the place. Aptly named, Kevin and Melissa said it would be "the Last Lid you'll ever need for your trash cans."
The Last Lid in the Shark Tank
The Kiernans were seeking $40k for a 20% share in the business.  Kevin and Melissa were essentially in the prototype stage when they pitched The Last Lid to the Sharks. The couple had no sales, but the product was unique in the marketplace; there are no other universal trash can lids in existence. Robert Herjavec has no interest and Kevin O'Leary doesn't like their numbers; they're both out. Lori Greiner likes the Kiernans, but not the product, she's out too. Mark Cuban likes the product, but doesn't think there's a big enough market. Daymond John, who claims he recently went looking for a replacement trash can lid, likes the product but doesn't like the valuation. He asks the Kiernans to come up with a better number. Kevin counters with an offer of $40K for a 60% share in The Last Lid and Daymond accepts.
The Last Lid After Shark Tank
Following the deal with Daymond, The Last Lid produced an online video to sell direct from their website. Sales have been lackluster online so far. The Kiernans and Daymond are working toward a TV commercial, but progress has been slow. Everyone believes the Last Lid would sell well in home improvement warehouses and hardware stores, but getting the product on the shelves is taking a long time. There have been licensing discussions between the Kiernans and at least one company, but nothing has been finalized. In short, the Last Lid is still in a very developmental stage.
Media Links for The Last Lid
Posts about The Last Lid on SharkTankBlog