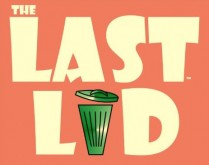 A lost trash can lid is a fact of life in urban and suburban America, no matter where you live. Finding a replacement trash can lid was next to impossible for a New Jersey entrepreneurial couple, Kevin and Melissa Kiernan, so they sought to rectify the situation by inventing The Last Lid. It's a heavy-duty, water-resistant, fabric, adjustable replacement trash can lid that keeps the trash in and raccoons and other critters out. The husband and wife team appeared on Shark Tank episode 303 in season 3 and got a deal with Daymond John who invested $40,000 for 60% of the business. I caught up with Melissa to discuss life after Shark Tank and to check up on how the Last Lid was doing.
Melissa's Shark Tank experience
"Overall, I was pleased with everything that came out on the show," she said. "Some things were cut, but it it was accurate. We left with our character intact.  It was a good experience, they didn't screw with our episode."
I asked her about the Sharks and how they were with her and Kevin while taping. "Kevin O'Leary was really nice! My husband, Kevin, was very nervous and messed up the introduction. O'Leary calmed him down. He said, 'Kev, relax, take a breath, start over.' A lot of people think he's nasty, but he was sweet. I wanted to think Mark Cuban was a jerk, but he was nice too."
"We love Daymond John. He invested in us as much as he invested in The Last Lid. As a lark, we invited him to our premier party. Kevin said he'd never come, but he called us back! Kevin nearly fell off the couch when he found out who was on the phone. We happened to catch Daymond on one of the rare weekends he was in New York City. We're only about 25 minutes from the city, so he came with a whole entourage. He brought his girlfriend, a cameraman, and a few assistants. He hung out for a few hours, he was great."
"Our website got a lot of traffic when we originally aired. The site held up, we have 'web guys' who handled it for us, but we didn't convert a lot of sales."
Trash Can Lids not having Direct Sales Impact
"Overall, our direct sales have been disappointing. Our product is far better suited to being on the shelf at Home Depot, Lowes and hardware stores, so we're continuing to work at getting it there. We are talking to some people about licensing, too.  Shark Tank keeps calling us to do a follow-up, but not much has changed. Daymond has been great. He's very responsive. He even checked in on us after Hurricane Sandy hit. Shark Tank was a good experience. We got what we wanted, an investment and attention for our product."
Melissa and Kevin continue to work toward getting The Last Lid on retail shelves. To date, there is still no other product in the replacement trash can lid space, so the room to grow is there. Shark Tank just didn't give the Kiernan's the type of boost for their business others have experienced.
"I don't watch the show much anymore," explained Melissa. "I watched it all the time when we were trying to get on the show, doing what everyone else does when they watch: critiquing the businesses and the deals. I'll certainly watch when we re-run or have a follow-up."
For now, it appears Melissa and Kevin will have to keep plugging away at getting The Last Lid on store shelves. Melissa had one parting comment: "My husband Kevin always says 'winners do what they should, losers do what they want.' You just have to go after what you believe in."
I also asked Melissa another question. Get her answer on The Hot Dog Truck.