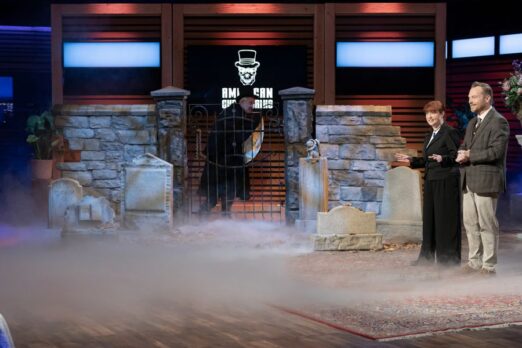 Brother and sister team Allison Jornlin and Mike Huberty introduce the Sharks to ghosts when they pitch American Ghost Walks, their ghost tour business, in Shark Tank episode 1506, the first Halloween themed Shark Tank in history. Allison, who describes herself as a "professional wierdo," began offering ghost tours in Milwaukee in 2008. In September of 2010, Mike didn't have money to pay his mortgage, so he started Madison Ghost Walks to earn some cash (he made the money). Allison credits Mike with building the company into what it is today. When the time was right, they quit their jobs and went all in.
The company operates ghost tours in eight states and 25 cities. The company prides itself on not only scaring customers, but giving them a slice of local history in the process. Allison, a paranormal investigator for over 20 years, develops the tours and does a lot of the research. They employ professional, knowlegable guides in each location. The guides work off a script Allison develops. They must be scary tours, you have to sign a waiver to go on them!
In addition to their regular tours, the company participates in paranormal events all over the country. They also host corporate tours, complete with food, drink and transportation. With the measured growth and commitment to historical accuracy, they likely want a Shark to help them expand to more cities.
Company Information
Video

Posts about American Ghost Walks on Shark Tank Blog
American Ghost Walks: Guided Ghost Tours
American Ghost Walks Shark Tank Recap
Allison and Mike enter the Shark Tank seeking $250,000 for 15% of their company. Allison asks if ghosts can make you rich. Mike tells the story of Cornelius Vanderbilt who consulted the spirits through a medium for stock market advice. Their tours are deeply researched in beautiful locations with haunted pasts. Their tours are entertaining presentations of remarkable facts so even non-believers have a wickedly good time.
The business is live, guided tours of haunted places. They have tours in 7 states and Puerto Rico. They have 32 employees. The tour guides are all people who are interested in the paranormal. Jason says the casting of the tour guides must be important. That's why they hire people with a passion for the paranormal. Many of their employees were doing tours for fun before coming aboard. Mike and Allison write a script, do the research, find the locations and let the tour guides do the rest.
What's the Business?
Allison started a tour in Milwaukee in 2008 and Mike started one in Madison in 2010. Next they went to Minneapolis and Saint Paul, next was a vacation town. Not all the tours were successful. In 2020 they grossed $92,000, in 2021 they grossed $392,000, but they spent $300,000. In 2022, they grossed $596,000 and lost $42,000 because they re-invested by acquiring existing tours. They spent $115,000 on acquisitions. In 2023, they're projecting $650,000 and spending $600,000. They are full time and they don't pull much out for themselves because they are in a growth phase. They've made the money back on the acquisitions and now they want to scale nationwide. They broke into the cruise market, too.
Jason talks about his success and how he focused on low budget horror movies. He thinks they are spread too thin; he's out. Lori thinks it's fun, but she's out too. Barbara says the more she listens the more confused she gets. She thinks they're too busy chasing the next rainbow; she's out. Mark says they weren't specific about their growth strategy; he's out. Kevin thinks they asked for too much money. Kevin says he gives them the $250,000 or buys another watch. It's unclear how he can multiply his money; he's out.
American Ghost Walks Shark Tank Update
The Shark Tank Blog constantly provides updates and follow-ups about entrepreneurs who have appeared on the Shark Tank TV show. Once an episode has aired, we monitor the progress of the businesses featured, whether they receive funding or not and report on their progress. The Shark Tank Blog will follow-up on American Ghost Walks & Allison Jornlin and Mike Huberty as more details become available.