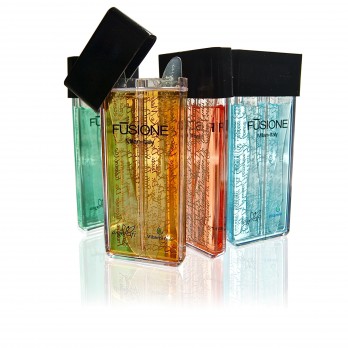 Kelly and Aaron Bruce want a lift for their prosthetic "anti-aging lifting strips," called AngelLift, The current product evolved from a device that attaches to teeth and needs to be "installed" by a dentist. The current incarnation of AngelLift consists of a surgical grade, plastic strip that fits between the lips and gums. The strip "lifts away" smile lines and wrinkles around the mouth without any injections or surgery. Combined with their Fusione low Ph collagen fluid, AngelLift is a safe, natural way to get a "face lift" at a fraction of the cost of surgery – and without the risks.
The AngelLift system originated in 2003, but similar products existed in Europe for over 20 years. They tout clinical proof the product works and a Canadian study back in 2007 found 84% of people using the device saw "facial improvement." Any way you slice it, anti-aging products are a multi-billion-dollar industry and AngelLift is poised to grab a share of that market, perhaps with the help of a Shark.
AngelLift Shark Tank Recap
Kelly and Aaron enter the Shark Tank seeking $100,000 for 25% of their business. They tell their story and deliver the pitch. Penelope does a before and after demonstration on her arm. It's flabby and shaky at first, but after applying a dermastrip, it's smooth and firm. Kevin wisecracks that Barbara has been doing the same thing with masking tape for years.
They've been in business five months and have $$75,000 in sales. A pack of five costs $19.95. The product is patented and they have other patented products too, but they are only pitching the dermastrips to the Sharks. (Their other products are Vermillion Strips for the lips and a variety of toning and cleansing cosmetics.
Mark is too confused by the other products; he's out. Kevin says they aren't making any money; he's out. Robert thinks their pitch was confusing; he's out. Lori makes an offer of $500,000 for 15% but the money is solely for funding QVC purchase orders. It's also contingent on proof of $3 million in sales for  their other products and proof of their patents. They accept.
AngelLift Shark Tank Update
The Shark Tank Blog constantly provides updates and follow-ups about entrepreneurs who have appeared on the Shark Tank TV show. The deal with Lori never closed and they declined going on QVC. The couple earned $3 million in sales in the aftermath of the show. They also built out an Amazon store. Fast forward to August, 2023 and they're still in business earning $5 million in annual revenue.
Posts About AngelLift on Shark Tank Blog
AngelLift Information
AngelLift Video: