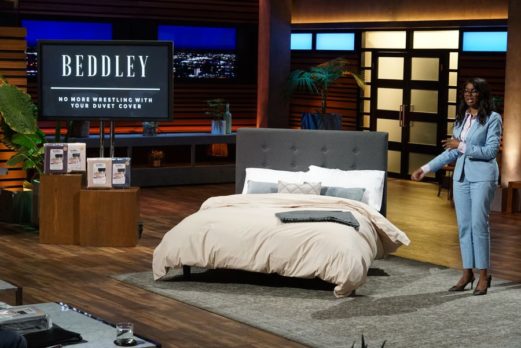 Lola Ogden wants to snuggle with the Sharks when she shows them Beddley, her easy to fit duvet covers, in Shark Tank episode 1119. Ogden is an inventor who spent most of her adult life in the business and technology world, but she has a passion for creating products that solve problems. In addition to Beddley, she also started a company called GapEnder – a women's fitted shirt company that eliminates the "bust gap."
Beddley is a simple duvet cover that eliminates the irksome task of covering a duvet. Duvets are down filled bed covers. If you have a duvet, you want to cover it so it doesn't get dirty; it's easier to clean a cover than a down comforter. Most duvet covers open at one end and you have to stuff the duvet inside. It takes a little wiggling and shaking to get it to fit properly.
A Beddley duvet cover opens on three sides. All you do is open it, lay the duvet on top and zip it back up. There are also ties on each corner to keep things in place. It's a lot easier than the old way. They come in two different collections: Sleep Easy and Zero Stress. Both are made from fine, Egyptian cotton. The Sleep Easy collection has covers in several colors and patterns. A queen size cover is $139 and a king is $149. The Zero Stress collection has three color options and costs $165 for a queen and $185 for a king.
As of show time, she's only selling direct on her website. She likely wants a Shark to help get her into retail and to help expand online sales. Will a Shark want to get in bed with this business?
Company Information
Video

Posts about Beddley on Shark Tank Blog
Beddley Shark Tank Recap
Lola enters seeking $150,000 for 10% of her business. As she demonstrates the product, the Sharks seem mildly interested. Objections about the product being a bit niche pop up, but when the Sharks learn she only has $12,000 insales for the year, they cringe and dispute her valuation. One by one, all the Sharks go out.
Beddley Shark Tank Update
The Shark Tank Blog constantly provides updates and follow-ups about entrepreneurs who have appeared on the Shark Tank TV show. While Beddley did not get a deal, the business carries on. Most products are out of stock as of June, 2020 due to the Covid-19 pandemic.
A statement on the company website reads: "In light of the global battle against COVID-19, our domestic production resources have been, rightfully so, fully dedicated to the production of protective face masks for medical personnel, as well as the general public. Rest assured our products will be restocked as soon as possible. Exciting new lines will also be added."