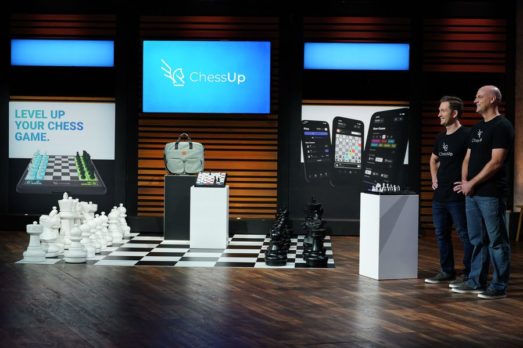 Adam Roush and Jeff Wigh hope a Shark will make a play for ChessUp, their electronic chess tutor, in Shark Tank episode 1409. A third co-founder, Justin Farrell, doesn't appear on the show. They all met while working at Garmin as product development professionals and engineers. ChessUp is the first product they're bringing to market through their new company, Bryght Labs. The want to focus on teaching STEM based games, so there may be other products down the road. The idea for the smart chess board came when Wigh was playing chess with his daughter. He wanted to create something that would help beginners learn the ropes of the game.
ChessUp is a smart chess board that can either teach you the game or play against you. When you touch a piece on the chess board, it lights up all possible moves. Moves are ranked by the squares on the board lighting up. A green light is the best move, blue is second best and red is a bad move. These features work whether you're playing against a real opponent or the game itself.  Once the game is over, the board remembers every move so you can go back and see where you made a wrong move. You can adjust the level of assistance and/or the strength of your AI opponent from beginner to Grand Master. If you don't have a live opponent but would like one, you can play with someone anywhere in the world by linking up your board on Chess.com.
The guys got the business started with a successful Kickstarter campaign that raised $1,703,168 and a successful IndieGoGo campaign that raised $1,925,194 back in April, 2021. They just started shipping their final orders from those campaigns in November, 2022 – just a few weeks before appearing on air. They also developed an accompanying app that connects to the board with Bluetooth and analyzes your play. Super Grand Master Chess player Levon Aronian, two time Chess World Cup winner is the company's "chess advisor" and helped the company develop some of their tutorials. The guys likely want a Shark's help scaling the business.
Company Information
Video

Posts about ChessUp on Shark Tank Blog
ChessUp Shark Tank Recap
Adam and Jeff enter the Shark Tank seeking $300,000 for 5% equity in their company. Adam begins by saying chess stimulates the mind and connects people all over the world. Both men say chess is really hard to learn and once you do learn, it's hard to improve. This makes chess an intimidating game.
ChessUp changes all that. It has a built in artificial intelligence that teaches you how to play. Simply touch a piece and it gives you the best next move. There are 6 different levels of assistance. You can even play with someone on the other side of the world and their moves light up in front of you. This lets people with different skill levels compete on an even playing field.
The Sharks each have a ChessUp that is ready to play. When a Shark touches a piece, they'll see all the available moves ranked by strength. Once the Sharks move a white piece, the black pieces will light up their next move. Barbara says the board soesn't talk to her and explain the moves. Jeff touts their curated set of chess lessons that walk you through different scenarios and teach different strategies.
The retail price is $399 and they cost $120 landed. Kevin wants to know if he can play the AI and Robert wants to know if he can play faster. The guys show them the diffferent speed and ability level options. Mark says there are a lot of online chess options, many of which are free, why would he spend $400 on ChessUp? Adam says with his product you are playing on a real board.
Both guys are full time. They met at an innovation lab at a major consumer electronics company. Between the two of them, they're listed on over 20 patents and are responsible for sales of over $1 billion. Adam most recently worked on the Garman Lily smart watch – Lori wears one. Three years ago, Jeff left Garman and contacted Adam to start prtotyping ChessUp. They took it to Kickstarter and raised $1.7 million. They were able to start the company with those funds. Year to date (summer 2022) they've sold $400,000 with no marketing budget.
Barbara says she couldn't do anything to help this business; she's out. Robert wants to know why he's lug the board with him while traveling. Jeff says there are 600 million people worldwide who play on a real board. Mark says he likes chess but doesn't love it – it's not a big enough market for him; he's out. Kevin wants to know projected sales for the year; it's $1.4 million and they'll turn a profit on that. An investor put in $392,000 and gets a 3.93% royalty on sales until they get a 1.5X return. Kevin says that sounds like one of his deals.
Kevin says he's interested because he plays chess but it's a complicated deal structure; he's out. Lori is on the fence and said she'd offer $300,000 for 10% and Jeff's eyes light up. Jeff counters with $300,000 with a 3% royalty until Lori recoups $450,000 for 5% of the company. Robert begins to speak and Lori says "I'll take it!"
ChessUp Shark Tank Update
The Shark Tank Blog constantly provides updates and follow-ups about entrepreneurs who have appeared on the Shark Tank TV show. As of the first rerun of this episode in July, 2023, about 6 months after the original air date, the deal with Lori has not closed. The company reduced the price of its boards from $399 to $299. At this time, no reliable revenue figures are available.
The Shark Tank Blog will follow-up on ChessUp & Adam Roush and Jeff Wigh  as more details become available.