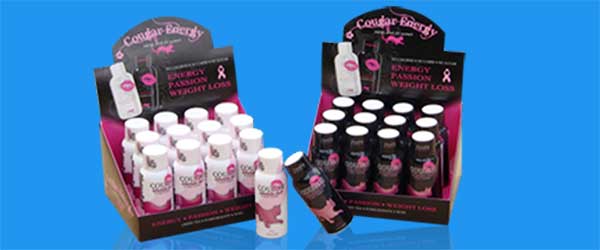 Ryan Custer comes to episode 312 with his Cougar Energy drink, hoping to entice the Sharks to invest in his very-niche product. Custer is dating a woman who could arguably be described as a "cougar." Eleven years his senior, she says in an interview that one of the advantages of dating a younger man is that he "plays great with my kids."
Custer has put 3 and 1/2 years into creating and marketing his product, spending all his savings and income. He's living at home with his parents while he tries to get the business off the ground. The niche for energy drinks for women in the 30-55 age bracket seems like a difficult one to carve out. The market boasts over $1 billion in sales each year, but the primary market is males in their teens and twenties. Older women represent a slim slice of the market share. Custer will be competing with the already-existing big names for what seems like a small percentage of customers. What will the Sharks think of his Cougar Energy drink?
Cougar Energy Shark Tank Recap
Custer enters the Shark Tank looking for $150,000 investment in return for 30% of his business. He calls "the cougar movement" a "recognizable brand, and emphasizes that he's cashed in on a "pop culture phenomena."
The Sharks meet his marketing pitch with chuckles. Robert Herjavec questions the definition of "cougar," and Kevin O'Leary pins Custer down on the age range for his market, remarking, "So, Barbara, you used to be a cougar," and earning himself a swat from Barbara Corcoran.
With the joking aside, the Sharks quickly get down to business. Daymond John wants to know about sales. Custer explains that he's already managed to sell $60,000 worth of product. The Sharks like the number, but are disappointed to hear that it took three years to reach that level of sales.
Who's In?
Daymond John drops out immediately, uninterested in the product.
Barbara Corcoran tries the drink, but calls the flavor "chalky." She's out.
Kevin O'Leary says that, by limiting the marketing to older women, Custer has "trimmed your market in two ways. You've said you've got to be a woman, and you've got to be a cougar, which cuts the market by, really, 75%."
O'Leary believes the big manufacturers already crowding the arena "are paid very well to crush cockroaches like you." He's out.
Robert Herjavec believes that women will feel that buying a "cougar" drink makes them seem old. Mark Cuban agrees, and goes out.
Herjavec calls the product a "gag gift," and the company's valuation "ludicrous." He's out.
Cougar Energy Shark Tank Update
Despite Custer's enthusiasm for the product, he didn't get a deal in the Shark Tank. By overlooking the negative connotations connected with the term, "cougar," he inadvertently created a product that could be construed as insulting to women of a certain age. In addition, he went after a very narrow niche in an already-crowded market. The Sharks didn't buy into his concept, and, it seems, neither have most of his intended market. Cougar Energy drinks are still available via his website and Amazon, but the social media pages show very little activity, seeming to indicate that Cougar Energy has run out of steam. Custer closed the business in 2014 and as of July, 2021, is a realtor at Pinnacle Realty Advisors in Dallas.
Posts about Cougar Energy on Shark Tank Blog
Company Information