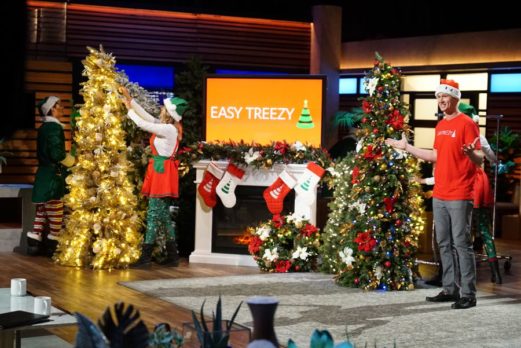 Easy Treezy inventor Kurt Stange hopes the Sharks light up over his easy to assemble, pre-decorated Christmas Trees in episode 1110, the 2019 Shark Tank Holiday Special. Stange is a serial entrepreneur who started his first company while still in college at the University of Miami. After graduating in 2005, he sold that company and started another business called Miami Christmas Lights. That company, which is still in business, designs and installs large scale Christmas light displays for commercial clients.
One of the things Kurt uses in his displays are quickly assembled Christmas Trees. People who watched him over the years often asked why they couldn't have trees like the ones in his displays for home use. He listened to them, and Easy Treezy was born. With the help of The Entrepreneurs' Organization in South Florida, a business mentoring and networking group, he was able to navigate the overseas manufacturing process and successfully make Easy Treezy Christmas Trees.
The tree itself is basically a series of collapsible cones that stack on top of each other. The exterior of each cone has faux pine needles, lights and, in some cases, decorations. Easy Treezy trees set up faster than "Santa can eat a cookie." Trees range in price from $279-$899, depending on the options you want on your tree. The product is currently in stock on Amazon, but Kurt expects the Shark Tank appearance to sell out all their inventory, so hurry!
The product is already a big hit: they sold out on QVC when they first appeared on the network and they employ 18 full time people in an 18,000 square foot warehouse. Kurt likely wants a Shark to bring more publicity to the company, though he really doesn't need it.
Company Information
Video

Posts about Easy Treezy on Shark Tank Blog
Easy Treesy – Artificial Christmas Trees
Easy Treezy Shark Tank Recap
Kurt enters the Tank seeking $400,000 for 10% of the business. The Sharks like the trees, but think they're too pricey. Sales are good: $2 million for the year with 35% margins. When the Sharks learn Kurt lost an $8 million order from Home Dept, it's the final nail in the coffin for this pitch and Kurt leaves with no deal.
Easy Treezy Shark Tank Update
The Shark Tank Blog constantly provides updates and follow-ups about entrepreneurs who have appeared on the Shark Tank TV show. This company is still in business and sells on Amazon. As of June, 2021, the company has annual revenue of $1 million.