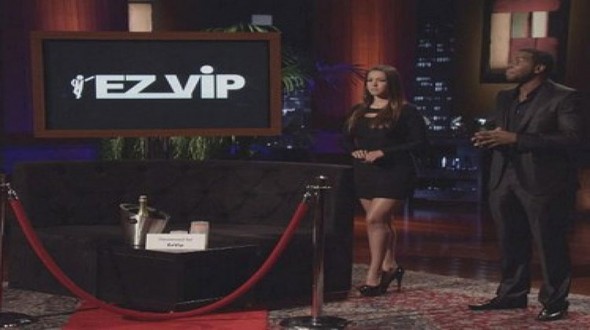 In episode 310, Alashe Nelson brings his business, EZ VIP to the Shark Tank, in hopes of snagging some high-end club street cred with the Sharks. His company allows clients to buy their way into some of the most exclusive nightclubs, reserving a table by paying a steep "guaranteed bottle" fee, pre-purchasing liquor to guarantee a premium spot at the club. How much will customers be willing to pay, in order to reserve their place in the party-to-be-seen clubs of Miami? Word is, the fees can range as high as $2,000, so EZ VIP appeals to Shark-level clients, catering to a specific niche market.
Will the Sharks bite, or will they pass on this party?
EZ VIP Shark Tank Recap
Nelson comes into the Tank seeking a 15% for $150,000 equity stake in EZ VIP. He created the company to combat the frustration of waiting in line and risking being turned away at the door of the best clubs. He describes a scenario to the Sharks, where they invite clients and friends out to a big event at a club, but are unable to get a seat. He presents EZ VIP as an alternative. The website allows users to view the best events in the City, and reserve their place at the club of their choice.
The service includes an "EZ VIP rep" who will meet the client at the club, and escort them inside. Daymond John seems taken with the VIP rep, but Kevin O'Leary wants to know about sales. Nelson explains that in Miami alone, the company has cleared over $70,000, with total sales reaching $250,000. Robert Herjavec calls the numbers "impressive."
Daymond John clarifies that the venues are "high end." Mark Cuban wants to know if EZ VIP can save him some money. Nelson gives an example in which a client bought a table at $1,000 several months in advance. Mark Cuban's basketball team had a big win the night of the booking, and table costs jumped from $1,000 to $30,000-40,000. Nelson claims that the sale was "final" and that the client was able to get in to their chosen venue.
Who's In?
Daymond John is skeptical, but Nelson explains that only a limited number of tables are up for sale at any given time. The advantage for the venue owner is advanced sales, which mean guaranteed cash flow.
Barbara Corcoran says that "this is a life that I can't even relate to." She's uninterested in the clubbing lifestyle, and she's out.
Kevin O'Leary admires Nelson's "initiative," but like Corcoran, he's not into the Club lifestyle. He's out.
Mark Cuban is intrigued by the business model, but doesn't believe he can bring value to the company. He's out.
Robert Herjavec "loves the idea," but he doesn't "really hang out at nightclubs." he's willing to put up $75,000 of the total $150,000 investment, if Nelson can convince Daymond John to come in on the deal.
Daymond's willing to do the deal with Herjavec, but he wants 45%. Nelson's not willing to part with such a large percentage of his equity. He counters for 18%. John offers to sweeten the deal, throwing in an endorsement from a celebrity.
Cuban offers to partner with John, but wants to cut Herjavec out of the deal. John is willing to drop Herjavec, and go in with Cuban.
Kevin O'Leary makes an offer. $150,000 for 25%. Herjavec offers to go in with O'Leary. They believe they can get an artist of the same caliber.
Daymond John sweetens his deal, offering the $150,000 for 30%. O'Leary steps up, lowering his percentage demand to 20%.
Barbara Corcoran speaks up, telling Nelson, "People who have the most fun with their business make the most money. Ask yourself, who are you going to have the most fun with?"
Nelson accepts John and Cuban's offer, citing John's branding skills.
EZ VIP Shark Tank Update
Robert Herjavec is clearly disappointed by the loss. He tells Daymond John, "I expect that from Cuban, but not from you." It's obvious that the Sharks saw a lot of potential in the EZ VIP business. True to his word, John brought Pitbull into the deal as a spokesperson for EZ VIP. This was featured in an update segment in episode 312, five months after the original air date. The company was able to gain footholds in New York and Las Vegas, and it seemed it was going to be successful. Shortly after the update segment aired, the website went dark and the company disappeared like a puff of smoke. Nelson still lists the business as open on his LinkedIn page, but there are no other jobs  listed and  the website is gone.
Posts About EZ VIP on Shark Tank Blog
EzVip Alashe Nelson Shark Tank Premiere
EZ VIP Company Information