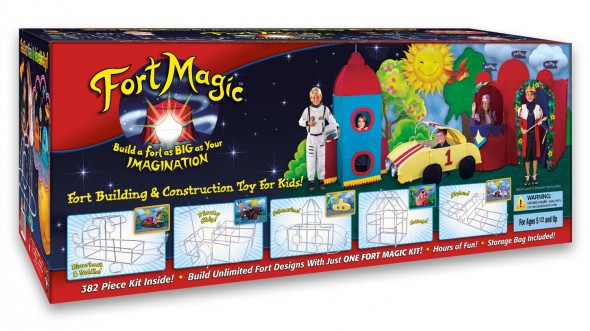 "Momtrepreneur" Erika Pope hopes the Sharks invest in Fort Magic, a fort construction kit for kids (and kids at heart), in Shark Tank episode 529. Fort Magic takes the indoor fort to a whole new level. It's interchangeable sections make for a near infinite set of fort configurations. Dr. Toy awarded Fort Magic with a "best classic toy" award in 2014.
Pope got the idea for Fort Magic when her son got frustrated by the fort limitations while playing with a dryer box. Kids love "life-sized" creative play, hence the popularity of the indoor fort with millions of kids. Pope realized this and set out to make her large-scale construction toy. It took her two years of tinkering, but in late 2011, Fort Magic was born.
The forts kits contain a series of sticks and  connectors that kids build the fort skeleton with. Then you attach sheets or other fabric to the skeleton with the supplied clips. It's easy and fun to build, plus parents know their kids are doing an activity that stimulates their interests in engineering, math and keeps them engaged.
Fort Magic is available on Amazon. Pope is likely looking for the Sharks to get her into national retailers and big box toy stores.
Fort Magic Shark Tank Recap
Erika enters the Shark Tank seeking $75,000 for 15% of her business. She tells her story and gives her pitch Robert actually gets up and plays with a fort onstage as she hands out samples. In 18 months in business, she has $150,000 in sales – mostly through Amazon. Each kit has 384 pieces!
The kits do not come with fabric. They sell for $199 and cost $40 to make. Erika has two other partners, one of whom is her mom. They're all equal partners and Erika can negotiate with the Sharks with 70% of the business's equity.
Barbara thinks Erika is "all over the place;" she's out. Mark thinks she needs to be more focused; he's out. Kevin thinks it's priced too high; he's out. Lori thinks it would be a better value if the fabric was included; she's out. Robert thinks she'll sell a lot of forts when the episode airs and he offers $75,000 for 50%. Erika counters with 25% but Robert holds firm and she declines his  offer.
Fort Magic  Shark Tank Update
The Shark Tank Blog constantly provides updates and follow-ups about entrepreneurs who have appeared on the Shark Tank TV show. Erika sold out of kits when her episode aired, then the business was quiet for a while. She added cloth covers and add on kits and lowered the price to $139. There are also smaller, less expensive starter sets.
As of  December, 2021, they are still  in business but not selling on Amazon due to the large amount of knock off products there. As of August, 2022, annual revenue is between $500,000 and $600,000.
Posts About Fort Magic on Shark Tank Blog
Company Information
Video