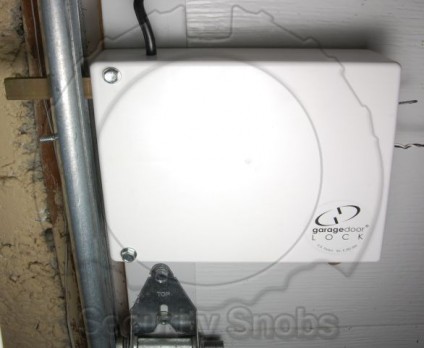 Entrepreneur Bryan White pitches his Garage Door Lock in Shark Tank episode 523 on March 21. White got a patent for his invention way back in 2002, now he's hoping a Shark can help make his patent and product pay off. What the Garage Door Lock does is lock your garage door with a remote, the same way you open and close it. Since most automatic garage doors don't have a dead bolt locking mechanism, this lock provides extra security.
White's company, Elocksys Inc, has an estimated $1-$5 million in sales coming into the Tank. There are literally millions (if not billions) of automatic garage doors that don't have a locking mechanism of any kind, so the market is huge. White likely wants the Sharks to help him get a deal with a large manufacturer of automatic garage doors.
Garage Door Lock Shark Tank Recap
Bryan enters seeking a $275,000 in return for 30% equity. He presents a scenario, explaining that a home invasion takes place every 15 seconds, and demonstrating how insecure the average garage door is, leaving homes open to burglars.
Kevin O'Leary wants to know how to "solve this horrific problem that is all over America? Stop the madness!"
Bryan explains that the lock is a DIY installation that takes about 2 hours for the average homeowner to add to their existing garage door. It's interchangeable, working with any brand door. To date, he's sold 450 units at $249.99 apiece, clearing about $112,000, through his website.
The Sharks want to know what he's doing to educate the consumer and market the Garage Door Lock. Bryan admits that his weak point is marketing. He'd like a partner who can help him launch the product into retail locations and build a name for the brand. He's an experienced inventor, having patented a device essential to parasailing previously, but his marketing and sales experience are limited.
He reveals that he has a "guaranteed introduction" to the owner of a large garage-door manufacturer. The Sharks warn him against those sorts of connections, saying that anyone who requires payment for an introduction is likely not working in his best interests.
Who's In?
Barbara Corcoran speaks up. "Can I tell you what you're missing in this deal? The most important ingredient. You're missing an entrepreneur." She explains that she doesn't believe that Bryan is capable of making the sales to the big-box stores, and that he needs a high-powered salesperson on his side. "Until the product is sold," she explains, "the business is worthless." She's out.
Kevin O'Leary agrees. He says he'll go out and buy one, but he can't see the opportunity as an investor. He's out.
Mark Cuban tells Bryan that he's looking for a marketing infrastructure, and he's not in the position to do that, so he's out.
Daymond John changes the tides by making an offer. He's willing to offer $275,000 for 40%, with the contingency of them finding a licensing deal. He would license the deal.
Robert Herjavec makes an offer as well. He believes he could put Bryan in front of the garage door manufacturers, but he's offering $275,000 in exchange for 70%, with no additional contingency.
Bryan asks Daymond if he would consider 35%. Daymond accepts, and Bryan leaves the Shark Tank with a deal.
Garage Door Lock Shark Tank Update
In spite of Bryan's success in landing a deal with Daymond John, the Garage Door Lock does not appear to have achieved the licensing deal John had hoped for. The website is still active, allowing customers to order a Garage Door Lock, but the social media accounts went silent as of 2014. It can be hoped that Bryan moved on to bigger and better things, but the Garage Door Lock has been shelved.
The locks are still available on a website called Security Snobs as of January, 2022. Either they bought the company or Bryan Licensed it to them.
Posts About Garage Door Lock on Shark Tank Blog
Company Information
Video