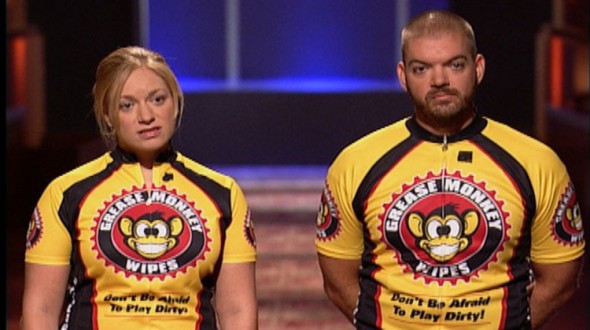 Tim Stansbury and Erin Whalen bring their product, Grease Monkey Wipes, to episode 113 of the Shark Tank. While on a 100 mile-long bike ride, Whalen had to stop to repair a flat tire. Despite wiping her hands on grass, and even on her denim shorts, she was unable to clean away the grease.
Whalen and Stansbury came up with the idea of a wipe that cuts grease and provides portable, safe cleaning. Will the Sharks clean up, or will the pair leave the Shark Tank without a deal?
Grease Monkey Wipes Shark Tank Recap
Stansbury and Whalen are asking for $40,000 for 40% of the company. They provide a demonstration of the citrus-oil based wipes, showing how the cleaning agent dissolves tough grease and oils. The Sharks are impressed with the cleaning capability, but Kevin O'Leary has questions. He wants to know if there's a patent on the product.
Stansbury explains that they have not yet taken out a patent, due to a lack of resources. The pair are relying upon the relative obscurity of their product thus far to protect them from imitators.
Kevin Harrington points out that oil-cutting cleaners are common, but Robert Herjavec points out that most are industrial solvents, not suitable for cleaning oil off skin. The Sharks are impressed by the unique logo associated with the Grease Monkey Wipes. Herjavec calls it "the best logo I've ever seen."
Kevin O'Leary gets down to brass tacks. He wants to know about sales. Stansbury responds that they've been on the market for a few months, with 7,600 units sold, with $7,400 gross revenue, since the packets cost only $1 apiece. O'Leary is shocked by the pricing, and questions whether such a low price is sustainable. The pair responds that they believe sales volume will compensate for the low price.
Stansbury explains that they've had a 75% success rate when pitching to new retail outlets, with 40% of the outlets re-ordering product. Since the company is only a few months old, it's difficult to accurately determine the re-order rate.
Who's In?
Daymond John loves the branding and presentation, but says "it's not a business for me." He's out.
Barbara Corcoran questions Stansbury's background. He reveals that he has a business MBA and experience in product management.
O'Leary comments that the business doesn't have "one of the most important attributes I look for in an investment, and that's proprietary content. For that reason, I'm out."
Kevin Harrington speaks next. He says that "I look for something very, very unique, and that has a unique selling proposition. I just don't see this being unique enough in the market." He's out.
Barbara Corcoran says "I don't think I've ever gotten my hands dirty." She's out.
One Shark remains. Robert Herjavec is the only investor who hasn't gone out. He's indecisive. He was impressed by the presentation, but the numbers are not strong. Whalen attempts to sway  him, saying "I promise we will not let you down."
Herjavec considers. He's clearly torn, intrigued by the product. He offers a deal at $40,000 for 40%. Barbara Corcoran is so impressed by the pair, she jumps in, offering a 50/50 split with Herjavec. He accepts, and the Grease Monkey Wipes partners walk out with a Shark Deal.
Grease Monkey Wipes Shark Tank Update
The Grease Monkey Wipes did become an impressive story for the Sharks, earning back their investment and then some. Their success earned them an update segment in season two's episode 205. Eventually, Stansbury bought the investor Sharks out, as well as his partner, Erin Whalen, making Grease Monkey Wipes a very successful one-man show.
Stansbury sold the brand in November, 2014 to Beaumont Products for an undisclosed sum and started a company called Cat5Elite, a bicycling-themed clothing company. That was a short-lived venture. Stansbury now works at Houghton Mifflin Harcourt in Austin. The products are still widely available in July of 2021.
Grease Monkey Wipes Company Information