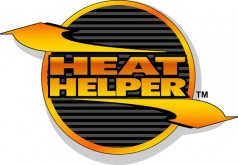 Heat Helper is called "common sense in a box" by inventor and entrepreneur Lyle Schuette. He invented the product after his wife hurt her back and had trouble bending over to get laundry out of the dryer. While figuring a way to elevate the dryer for his wife, he found a way to capture the warm exhaust from electric dryers and circulate the warm air back into the living space for heat. It ONLY WORKS ON ELECTRIC DRYERS! Lyle's main business is dirt! He owns and operates Schuette's Dirt Works in his home town of Derby, KS; Heat Helper is a side business that evolved out of his wife's need. Basically, the dryer exhaust attaches to the Heat Helper which filters out the lint and dust then blasts out warm air.
Heat Helper Shark Tank Recap
Lyle came in asking for $100k for a 50% share in his business. He sold a little under 700 units on his website and at some local Lowes and Walmarts. He was very likeable and his product made sense to the Sharks. Mr. Wonderful was particularly impressed with Lyle's dirt business and wanted to know how he could make money from dirt too! Mr. Wonderful didn't like the Heat Helper though, he thought it wasn't a big enough business. Barbara goes out because it isn't Lyle's primary business. Mark echoed Barbara's thoughts, saying he won't write a check unless the entrepreneur is living and breathing their business 24/7. Robert and Daymond go out too, but they all liked Lyle a lot.
Heat Helper Shark Tank Update
Lyle saw a huge surge in web traffic to the company website in the show's aftermath, fielding thousands of inquiries. He's manufacturing the product in Wichita and is working on distribution deals. It probably didn't take off as fast as it could have because Lyle still runs it as a side business. He's still, first and foremost, a "dirtrepreneur!" He shuttered the company in 2019, and sold Schuette's Dirt Works.
Posts about Heat Helper on SharkTankBlog
Company Information