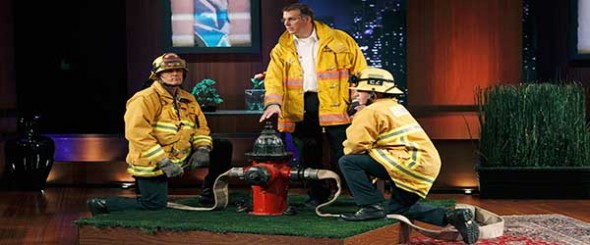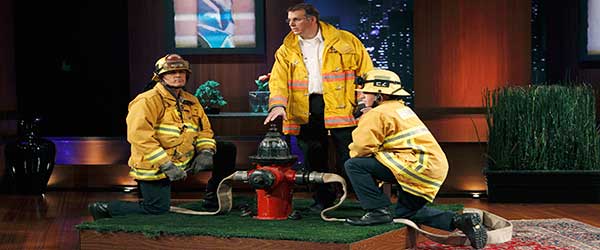 Full time fireman Jeff Stroope comes to episode 207 of the Shark Tank with his HyConn LLC. company. His experience as a firefighter gave him the idea for the HyConn. The quick-connect unit helps firemen hook up to the existing hydrant quickly and easily, and it provides a safe and effective connection. Seconds are critical when fighting a fire, and the time the HyConn saves may make the difference in saving a structure or watching helplessly as it burns to the ground. The HyConn LLC. slogan is, "because seconds do make a difference," a familiar saying from fire trainings.
The fire service isn't the only potential market. Stroope has a home version of his quick-connect device that would fit garden hoses, expanding the potential outreach of his products. Will the Sharks want a bite of this hot product, or will they leave Stroope hosed down and all wet?
HyConn LLC. Shark Tank Recap
Stroope comes into the Shark Tank wearing his turn-out gear, and requesting $500,000 in return for 40% equity in the business. He presents the idea behind HyConn LLC., calling it "the world's fastest way" to connect and disconnect from a hydrant. He offers a side-by-side demonstration of the time it takes to connect and disconnect the Hyconn and a traditional standard hose, showing the distinct difference in the amount of time it takes to connect to the water source.
Stroope has already approached the major fire equipment distributors about buying the patent. They turned him down, but offered to distribute the product if he can get it into manufacturing. Based on their apparent lack of belief in the product, Daymond John goes out. Barbara Corcoran doesn't believe that municipalities will spend around $7,000 in order to save around 8 seconds. She's out.
Robert Herjavec wants to know if the product can be applied to other industries, like a home garden hose. Stroope pulls an adaptor out of his pocket. He's already considered the home version of his product.
Mark Cuban offers a deal. He'll give Stroope $1.25 million, and offer a 3 year employment agreement, in addition to a percentage of the profits, for 100% of the company.
Kevin O'Leary steps in, but he's only interested in the garden hose adapter. He offers $500,000 for 100% of that product, plus a 3% royalty on sales.
Robert Herjavec believes that Cuban's offer is "too generous" and he's not willing to match it. He's out.
Two offers are on the table, but only one can prevail. Stroope accepts Cuban's offer.
HyConn LLC. Shark Tank Update
Although the deal struck could have launched HyConn into success, reality TV isn't always all it's cracked up to be. Upon further negotiations, Mark Cuban wanted to license the product, rather than get into the manufacturing business. Stroope was unhappy with some of the changes to the deal, and the pair eventually parted ways.
In this case, the Shark Tank exposure and eventual re-airings were not as profitable for the company. Without the Shark deal, Stroope wasn't able to fulfill his orders, and it took him several years to land another investor. His website is active, but his social media pages seem sluggish, and multiple readers have pointed out the competing products on the market. It seems as if HyConn LLC.'s fire isn't as bright as it first appeared, in spite of the Shark deal Stroope landed.
As of July, 2021, Stroope still lists the company as "open" on his LinkedIn page. Social media has not been updated since April, 2019. Stroope is currently a Tool & Die Shop Manager at D&M Holding Company, an ammunition manufacturer in Arkansas.
As of August, 2022, the web store is down. He still lists the company as "open" on his LinkedIn page, but it's safe to say he isn't selling any connectors.
Posts About Hyconn on Shark Tank Blog
HyConn by Jeff Stroope Preview
Hyconn Company Information