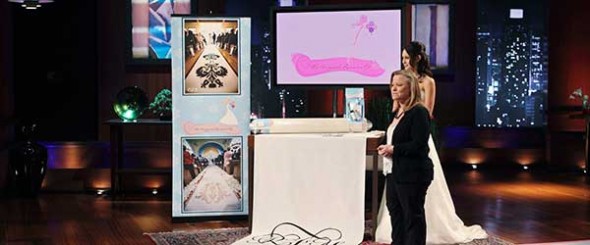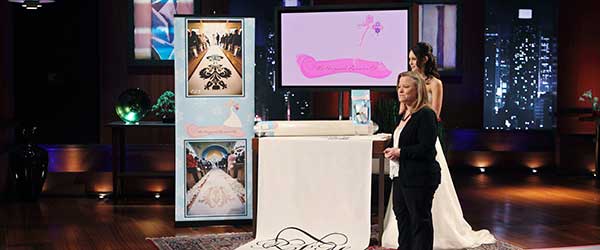 In episode 207, Julie Goldman pitches her Original Runner Company to the Sharks, hoping to marry her bridal supply company with a Shark deal. Goldman comes into the Shark Tank well prepared, having spent time doing her homework and preparing to answer the Sharks' questions.
Goldman created her first original aisle runner for her own wedding, after finding the paper or plastic disposable options too flimsy. The idea took off from there, and she began customizing aisle runners, creating beautiful, practical, non-slip aisle runners that can be used again after the big event.
Will the Sharks want a bite of Goldman's bridal dream, or will she be left at the altar?
Original Runner Company Shark Tank Recap
Goldman is offering a 15% stake in her company for a $250,000 investment. She presents her product, showing how it's superior to the cheap, disposable runners. She has existing celebrity clientele and has sold "millions" of dollars' worth of product through her website alone. Her new product, the Walk Safe Aisle Runner is a non-slip, plain white, 50 foot runner that is designed to be sold through retail outlets, as an alternative to the disposable runners currently available. She's also bringing a "home monogramming kit," to allow brides to make customized runners at home. She hopes that a Shark deal will help her bring her brand to retail outlets and make it more accessible to the average bride.
Goldman has come prepared for t he usual objections and questions the Sharks present to entrepreneurs. When Kevin O'Leary calls her business "an example of the recession returning," she responds that her business is an example of success despite the recession, and details how she cut her rent by moving out of the City and increased her sales.
Who's In?
Daymond John questions her margins and points out that her idea cannot be patented, but she responds that fabric can't be patented, and points out that he was able to make millions despite not being able to patent clothing.
All the men question her valuation and the idea of going into the retail market. Barbara Corcoran quiets the argument, telling the men they're "worse than women." She's visibly impressed with Goldman's presentation, but says that she "doesn't need anyone here," and disagrees with the retail strategy. She's out.
Mark Cuban feels the margins in the retail market are too slim. He's out. Robert Herjavec believes the risk of offering the lower cost product in the retail market is too great. He's out. Daymond John is out without explanation. Perhaps he didn't like being challenged on the lack of a patent?
Kevin O'Leary is willing to offer $250,000, but he wants 51% of the company, telling her that she "needs" his guidance. Goldman responds that O'Leary doesn't know the bridal industry. She leaves the Shark Tank without a deal.
Original Runner Company Shark Tank Update
Barbara Corcoran was spot-on when she told Goldman that she didn't need the Sharks' help. Goldman introduced her lower-priced aisle runner option through her website and introduced it to retail stores. Today, her sales are robust and she's turning a healthy profit, without the help of a Shark investment. She took full advantage of the traffic generated by her  appearance on the show, and even planned ahead, preventing her website from crashing. Her appearance generated thousands of new orders, and it seems that her Original Runner Company is enjoying wedded bliss.
While business is good, there are still challenges. Barbara Corcoran approached Julie and offered to invest her time in the business. You can read about it HERE on Beyond the Tank Episode 109.
2020 brought severe challenges for anyone in the wedding industry. In typical "rock star" fashion, Julie sold the company to Inside Weddings for an undisclosed amount. At the time of the sale, the business was doing $6 million in annual revenue.
Posts About Original Runner Company on Shark Tank Blog
Original Runner Company Update
Original Runner Julie Goldman Shark Tank Preview
Company Information