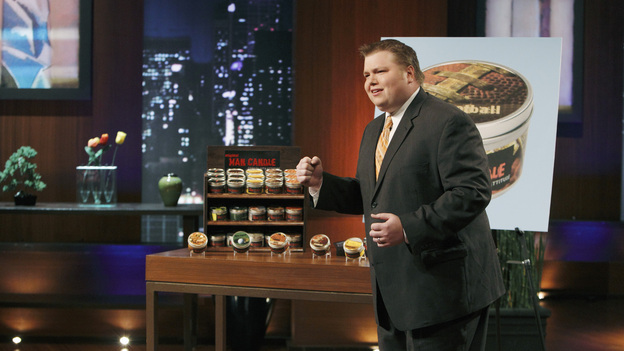 Johnson Bailey comes to episode 207 of the Shark Tank to peddle his Original Man Candle company. The idea came to him one afternoon when he was waiting for friends to come over for a game. Desiring to cleanse the odoriferous aroma of sweat and stale Chinese food from his man-cave, he reached for a candle. Vanilla-lavender was not testosterone-scented enough for Bailey, so he came up with the idea for the Original Man Candle – scents that only a man could love.
Bailey is still in college, and developed the candles as a project for his entrepreneurship class. With odors like Bacon, Football, and even Fart, to choose from, men will be able to clear the air and mark their territory with signature smells. Will the Sharks take a bite at this unique product, or will they turn their noses up and swim away?
Original Man Candle Shark Tank Recap
Bailey comes into the Shark Tank asking for $50,000 in return for 25% of the Original Man Candle company. He comes in with high energy, selling his product like a carnival caller. He presents the various scents, and hands out samples to the Sharks, giving Robert Herjavec "New Car," and Barbara Corcoran "Beach Babe," in a clearly well-thought out presentation.
Bailey shows his business acumen by switching gears smoothly between presenting his scents and talking about numbers. The Original Man Candles are being sold in 400 stores. Sales have been strong, with $53,000 sold in the past year. Bailey is still in college. He hand-pours each candle himself, working out of his home.
Mark Cuban wants to know about re-order patterns. Bailey's answer, that his average shop re-orders 6-7 times a year, doesn't impress the Sharks. Kevin O'Leary calls the product "crap for tourists." He's out. Barbara Corcoran likes the Fart Candle, but doesn't believe the business is large enough to invest in. She's out. Daymond John tells Bailey he has a "vitamin C deficiency: not enough cash, credit, or customers." He's out. Robert Herjavec doesn't believe Original Man Candle will make any money. He's out.
One Shark remains. Mark Cuban loves Bailey's energy and passion for the product, but he can't see the product as a full company. He's out, and Bailey leaves the Tank with no Shark deal.
Original Man Candle Shark Tank Update
Despite a big spike in Bailey's sales following the Shark Tank episode, some post-show mentoring by Daymond John, and an upbeat update in episode 302, his candles seem to have vaporized into thin air. The products are still widely available via online retailers, but the Original Man Candle website, which had gone dark for a time, is still up and running. Bailey's Original Man Candle idea was taken over by big-name companies. Yankee Candle now offers a line of testosterone-fueled scents, including 2×4 and Football. Another company, Mandle, dominates the market.
In May, 2011, Mr. Bailey was contacted by P. Nathan Thornberry, a Carmel, Indiana resident who saw the fart-scented candle on the show. He invested $65,000 in exchange for a 35 percent stake in Original Man Candles. The relationship ended badly: Thornberry filed a breach of contract suit against Bailey, winning a $71,647 judgment he couldn't collect because Mr. Bailey filed for Chapter 7 bankruptcy protection.
Bailey went on to work for Stupid.com for a time and now is missing once again from the spotlight. Mr. Thornberry continues to sell the product and has over 150 independent sales reps pitching the product nationwide. He claims the candles are in over 150 stores. Sales are roughly half a million dollars per year with 40% of sales coming from the Fart Candle. As of August, 2022, revenue climbed to over $1 million.
Posts about Original Man Candle on Shark Tank Blog
Original Man Candles Entrepreneur Johnson Bailey on Shark Tank
Man Candles gone like a Puff of Smoke
Where is Johnson Bailey & Original Man Candles?
Original Man Candle Company Information