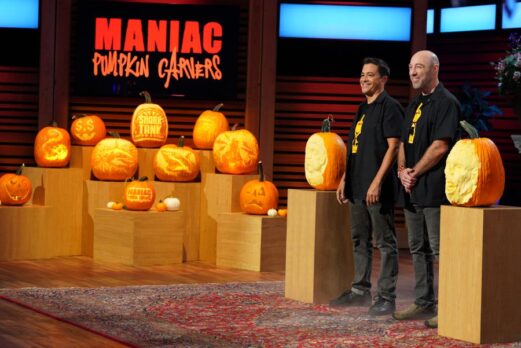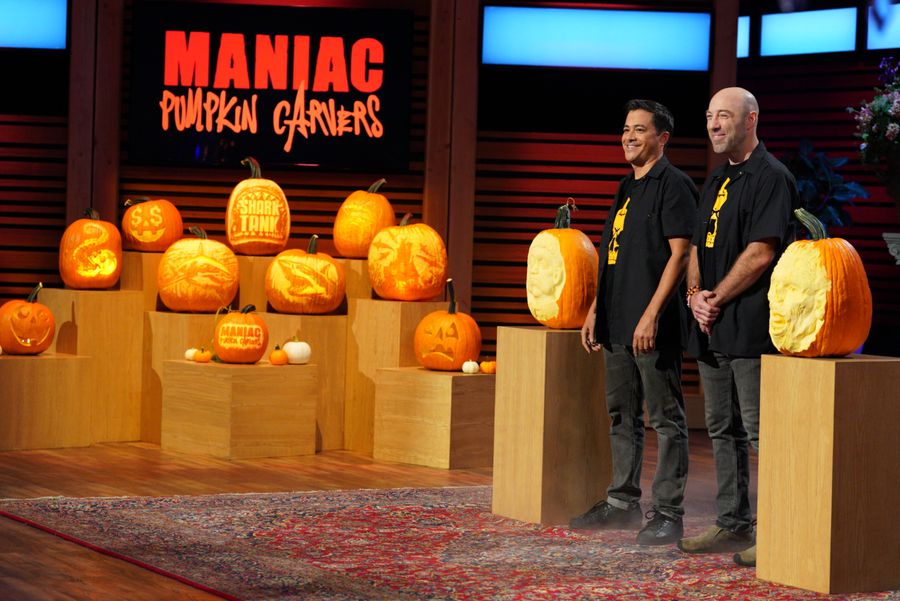 Marc Evan and Chris Soria hope to carve out a deal for Maniac Pumpkin Carvers, their artistic pumpkin carving business, in Shark Tank episode 1506, the first Halloween themed Shark Tank in history. Marc and Chris first got into pumpkin carving in high school when they transformed part of their school into a haunted house. While they were attending the Parsons School of Design, they took the art form to a whole new level.
Their creations truly are works of art. They turn pumpkins into advertisements with logos, portraits, or any customized pumpkin you want. Pumpkin Carving Maniacs even do time lapse carving videos for clients that want them. They also do live carving events and conduct classes in pumpkin carving both online and in person. Marc and Chris' work has been displayed at The Museum of Modern Art, the Whitney Museum, Yankee Stadium and mmany other venues.
All their pumpkins are sourced from local, family farms in New York, New Jersey, Pennsylvania. The company employs many artists with a wide variety of disciplines. When it isn't pumpkin carving season, Marc, Chris and their other artists work as fine artists and active muralists. As the online classes are new for them, they likely want a Shark's help with that part of the business.
Company Information
Video

Posts about Maniac Pumpkin Carvers on Shark Tank Blog
The Maniac Pumpkin Carvers: Masters of Gourd-geous Artistry
Maniac Pumpkin Carvers Shark Tank Recap
Marc and Chris enter the Shark Tank and tell the Sharks they've been honing their technique for decades. They've been featured in prestigious museums, events and installations across the country. From detailed portraits, recreations of famous works of art to iconic insignia, they've taken a nostalgic pastime to an ephemeral art form. Now, they're here to help all of the people with their School of Pumpkin which will feature online carving classes teaching a wide variety of carving techniques to help unlock your true carving potential. They'll also offer all the tools and resources needed to carve the perfect pumpkin. They are seeking $150,000 for 8% equity.
Mark wants to know how they'd release his pumpkin carving potential. Chris says they've been teaching art for over a decade in various forms. Their course will teach you how to carve something to be proud of and even if the first try isn't a masterpiece, they'll coach you to go beyond the classic jack-o-lantern. The last 3 years were a game changer for them. The Covid-19 pandemic prevented them from doing live classes so they pivoted to online classes.
Let's Talk Numbers
In the last 3 years, they sold over $170,000 worth of virtual class experiences and $90,000 of tool kits. They currently recommend the tools they've been using, but they want to develop their own line of carving tools. Last year, gross sales were $294,000. That includes custom orders, classes and events. All artwork is carved by hand. They ship pumpkins all over the country but shipping is expensive. A custom portrait is in the $600-$800 range. They have a staff of artists for the autumn surge.
When they started, their business ran two or three weeks before Halloween; now it's an entire quarter of the year. In August and September, they carve pumpkins that will be used in product placements and advertisements. Jason asks why they would scale a great small business. Chris wants to get into the mass consumer market. They want to sell their tools and classes. Classes have only been provided to corporate clients so far.
Who's In?
Barbara wants to know why they don't expand into year round markets and do things like sand castles. She doesn't see the potential; she's out. Kevin doesn't see a scalable business; he's out. Mark doesn't think online pumpkin carving classes will be huge; he's out. Lor says there are a lot of pumpkin carving tools out there, she doesn't think they should try to compete with that; she's out. Jason says he manages the line between art and commerce. He sees two terrific artists, but he's out too.
Maniac Pumpkin Carvers Shark Tank Update
The Shark Tank Blog constantly provides updates and follow-ups about entrepreneurs who have appeared on the Shark Tank TV show. Once an episode has aired, we monitor the progress of the businesses featured, whether they receive funding or not and report on their progress. The Shark Tank Blog will follow-up on Maniac Pumpkin Carvers & Marc Evan and Chris Soria as more details become available.