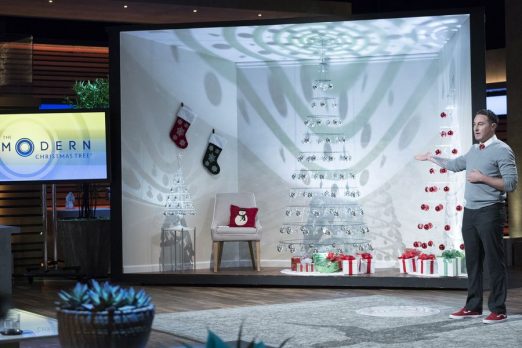 Matt Bliss hopes to dazzle the Sharks with his minimalistic take on a Christmas icon, the Modern Christmas Tree, in episode 910 – the Shark Tank holiday special. Mr. Bliss started the business in 2011 when the inventor, his grandfather, was stricken with Alzheimers. Originally created in the 1960's by Lawrence Stoecker, the Modern Christmas Tree has evolved from cardboard to today's acrylic and glass model – complete with an engraved signature of Lawrence Stoecker.
When Bliss showed the tree off at the Denver Modernism show in 2011, it was a huge hit. Bliss patented the design and received the final patent days after his grandfather's death. The Disneyland Hotel was his first customer when they ordered 16 trees for their Christmas displays. Many trees are also on display in prominent mid-century style homes across the country – at Christmas time of course. Now, Bliss is carrying on his family tradition with his company and he honors his grandfather by donating a portion of each sale to the Colorado Chapter of the Alzheimer's Association.
Modern Christmas Trees are all over the world now. Bliss even has customers in Dubai! There are three models: a wall mounted tree, a table top tree, and a full seven and a half foot tree. Each comes either decorated or undecorated. Decorated trees come in a variety of color options for the rings of the tree and for the ornaments. The large tree is designed to hang from the ceiling, but it also comes with a stand. Prices range from $199 for an undecorated wall or table tree to $799 for a fully decorated seven and a half foot tree. Bliss likely wants a Shark to help him spread holiday cheer the modern way
Will a Shark think this business is full of holiday magic?
Modern Christmas Tree Company Information
Video

Posts About Modern Christmas Tree on Shark Tank Blog
Mid-Century Modern Christmas Trees
Modern Christmas Tree Shark Tank Recap
Matt enters seeking $100,000 for 10% of his company. He tells his story and demonstrates the set up. He also gets into the background with his grandfather and shows the Sharks his 2 tattoos: one of the tree and the other of his grandfather. Then the questions start flying. He's on track to do $380,000 in sales. Last year's sales were $200,000. He makes a fully decorated tree for $232 and sells it for $799. 80% of sales come from the website and the rest from retailers like Brookstone.
Mark doesn't think it will be able to scale to the$10-$20 millions range and is the first Shark out. Robert thinks it's beautiful, but it's a very limited market; he's out. Kevin soon follows due to the pricing. Lori thinks it's beautiful but her gut tells her to go out; she does. Barbara is the last Shark left. She offers $100,000 for 25% plus a $5 per tree royalty until she gets her money back. At that point, Kevin comes back in an offers the same as Barbara. Barbara goes down to 20%, then 19%. Matt counters with 15% and Barbara goes to 18%. They do the deal.
Modern Christmas Tree Shark Tank Update
The Shark Tank Blog constantly provides updates and follow-ups about entrepreneurs who have appeared on the Shark Tank TV show. The deal with Barbara closed. In the period following the original air date, sales spiked 300%. Matt developed undecorated trees and smaller, less expensive models. He also introduced a 10 foot high model. As of February, 2023, the company does about $1 million in annual revenue.